This post contains affiliate links.  Thanks for your support!
I can't believe it is almost time for the new school year.  I know so many have already started but we won't be starting until the second week of September as we schooled so far into the summer.  My oldest daughter and son finished mid July and then my other daughter went into August.  Once the first two were done we pretty much ditched our schedule and I just worked with her when I could.  Now I totally needed a break from the schedule, but it is amazing how much I have not been accomplishing without it and how much more stressed throughout the day I get.  I feel like I spend all my time reacting to everything and constantly trying to keep up with the day instead of being productive.  And of course there is much more chaos right now because being on break everyone just kind of has free time all day.    I think the only things that I have really kept up with lately is our laundry routine and nap/quiet time.  I am actually looking forward to getting back to my schedule as I accomplish so much more with it!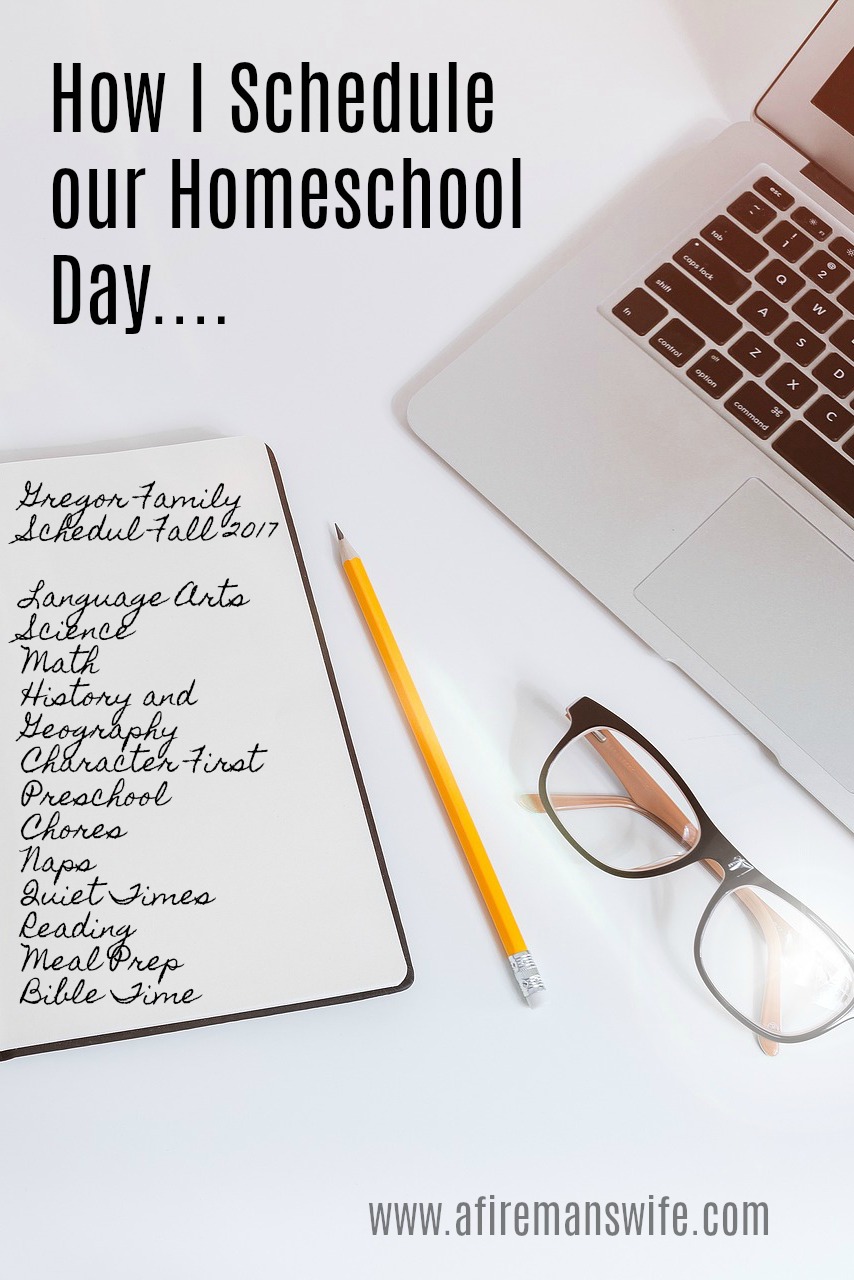 Why Do I Schedule
Now I know we are all wired differently and some people may do just fine without a schedule.  Or maybe all your kids are older and having no schedule works just fine.  For me when I fist started homeschooling three years ago I knew I needed something to help me get through the day.  I knew I was called to homeschool but I was very intimidated at the thought of being able to keep up with school for both my girls, get all that accomplished with an almost two-year old, still get the chores done, make meals, laundry, and pay bills etc.  I was also just pregnant with my 4th baby and very tired.  I touched on this a little bit in my post about our homeschool curriculum and how I wanted to know how other families accomplished all this and still stayed sane!  I learned that it helps to have a curriculum that doesn't require a lot of prep from mom, and also schedule your day.  By scheduling our day I can think about ahead of time, when I can focus, all the things that each child needs to accomplish everyday, and what I need to accomplish including teaching school, chores, meal prep, laundry etc. This eliminates me having to make all those decisions on the fly throughout the day of when to accomplish everything and how to get it all done.  If I didn't follow a schedule I would most likely end each day feeling like not all the school work was done, chores were skipped, laundry might still be in baskets at the end of the bed, and then stressed because so much was left undone.  That was not how I wanted our homeschool days to be!  The kids also thrive because everyone, even the little ones know what is coming next.  With a balanced schedule we would all have enough time for work, play/free time, and rest.
How I Schedule Our Day
I actually schedule our day modeled how Teri Maxwell teaches it in her book Managers of Their Homes.  You can also purchase the book from their family website at Titus 2.  If you don't purchase the book I recommend still registering for her monthly emails.  She is full of good ideas and suggestions for making your homeschool day work.  This book was a huge help in guiding me how to set up a schedule that will actually work and you can stick with!  The book is full of great examples of how to schedule everything from school, to toddlers, baby feedings, meals, and all the cleaning.  If scheduling you day is something you are interested in I highly recommend you read the book because it will help all that I am saying make more sense.  The book also comes with a kit to help you set up your schedule all color coded.  I used the kit to get everyone's activities all put on paper but then I actually created my schedule on Numbers (Mac), same as Excel for PC.    After creating my first original schedule three years ago I like that with each new semester I am able to have a template to start with for creating my next semesters schedule, and being done on the computer makes it so easy to make any changes.  I do actually re-do my schedule every fall and spring.  This is especially very important when you have babies and little ones because their routine with naps and feedings etc. change so much.  Also as kids grow older they can take on more chores or have different activities that we need to schedule in.  Most of my kid's school subjects can fit into 30-45 time blocks so that makes it easy for plugging in the schedule.  Same with our cleaning and laundry, I break up those tasks so they can be done in 30 minute time blocks.  Here are a few examples of our past schedules.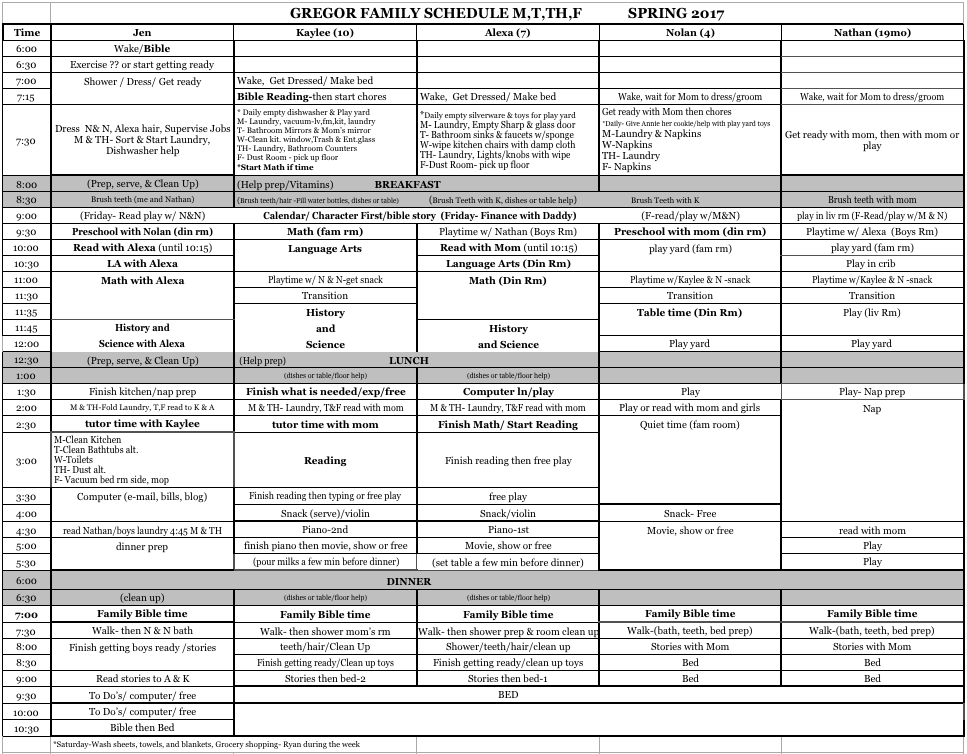 This one is from when I was keeping up with a nursing schedule.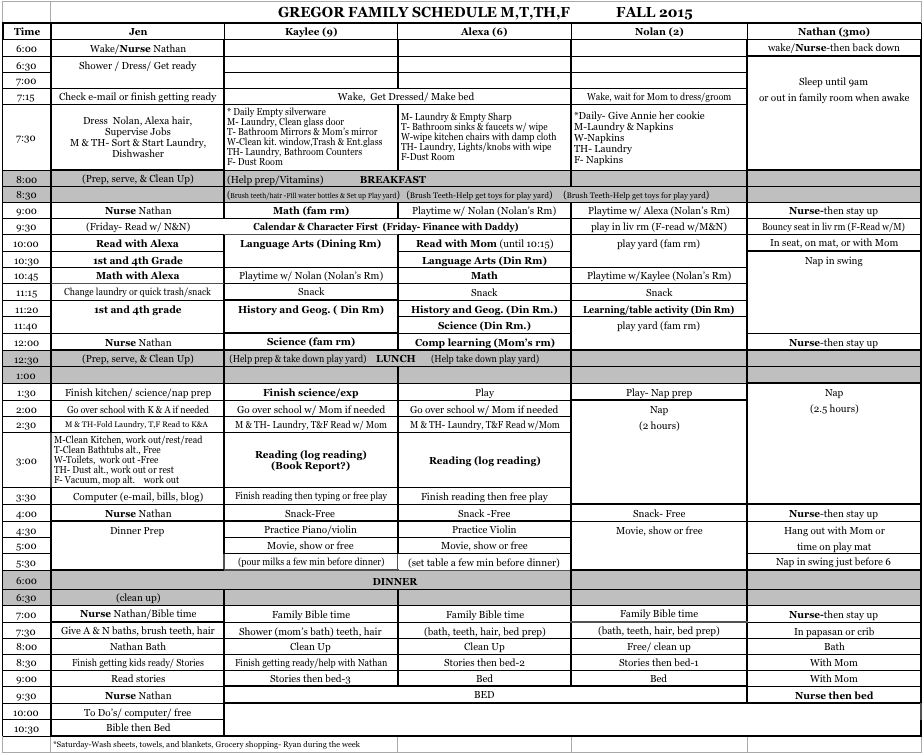 So as I mentioned above the best way to do this is to read the book.  I will try to go over some of the main points as well here.  First for both you and your kids,( I don't schedule my husband), it helps to make a list of what you want each person to accomplish in a day and in a week, and also another list of all the chores that need to be done.  Once you have your chore list you can assign it to the person that is going to complete that chore.  Once I have my lists of who is doing what I will open up my past semesters schedule and copy it.  On the new copy I will change all my information at the top to have the correct semester and year and then I will update the kids ages.  Feel free to use one of my above schedules as an example when setting up your first schedule.  Then I will figure out what times of the day that I want the meals.  You can see above that I grayed those out across the board because those times will be used for all of us.  The next step for me was to do the baby's schedule including naps and nursing times.  This way when you have a nursing baby you are not scheduling teaching math etc during a nursing time.  Now I don't have a baby any more but that was very important during that stage to make sure the baby was taken care of and happy!  We still have a nap time for my youngest and quiet time/reading time for the other kids so I will plug that in.  If there are any other things in your schedule that have to be done at a certain time you can fill that in.  The more I do this I usually find that certain things stay the same like wake times and getting ready, nap and chore times etc. Then it is free rein to fill in what everyone needs to get accomplished in the rest of your time blocks.  I do put in bold the areas of the schedule that are for school, and I also used to bold the nursing times.  The beauty of this is that since you are doing the schedule you can decide when you do chores or school etc.  When having your schedule all on paper in front of you, you can look at your day ahead of time to make sure you have everything on it that needs to be accomplished.  As needs change or if you realize something is not working you can change it!  When we first start a new schedule it can take a week or two to really get in the groove.  During that time you can tweak it to make any necessary changes.  I love this because my little ones even get used to what is next and I have found they really like the predictability.
So you might be looking at this and think wow, this is too much!  Isn't this exhausting to keep up with??  I have found that not to be the case.  When I first started using a schedule I actually felt like I jumped into my first year of homeschooling like I knew what I was doing!  I find that I am less stressed at the end of the day when I follow the schedule and everything gets accomplished.  Also by scheduling kids to help out with chores/laundry etc. it takes some of the pressure off of you having to accomplish everything yourself.  If you feel like your schedule is too much you can try to re-work things to either cut something out or give yourself some extra time with an activity.  For example when I was pregnant with my fourth child I scheduled a nap time for me during my son's nap time and my girl's quiet time.  Or if you have a new baby for that season maybe you can't fit in an extra hobby into your schedule.  Just know it is only a season and you can bring it back in a year or so.  The beauty of it is that you can make it whatever you need to fit your needs and to get done everything you need to accomplish.
Now of course some days things don't go as planned, or you might have an appointment or someone gets sick.   The important thing is to not give up and just jump back in your schedule whenever you can.  Or some school days you might have a different activity that you don't do any other day.  For example on Wednesdays we do a homeschool PE class and have church that night.  I knew I needed to create a separate Wednesday schedule to still fit in some school and all those activities.  On that day we have a different lunch and dinner time and the amount of time we spend in each school subject is shortened.  This way when we get to Wednesday I don't feel like nothing was accomplished just because we have different activities.  So it is okay to be flexible!  Also in the evening after dinner and bible time we are not so strict on that part of the day especially now that I don't have a baby to keep on schedule.  I like to have it down on paper but if other family stuff comes up we are just fine getting off the schedule.  I think the schedule is most important during the core school and chore part of your day and up until dinner time.
So if you are feeling overwhelmed by your days I hope this can help give you some ideas.  If my schedules above are too hard to read let me know and I can email them to you.  Definitely check out the book and I would also be happy to answer any more questions you might have about scheduling.  🙂