This post contains affiliate links.  Thanks for your support!
Well we all know how to do the laundry, but I thought I would share how I "do" laundry so it doesn't start taking over your house and so you can also stay toxic free! Laundry can easily become an out of control problem if not constantly kept up with. It is so easy to either have piles of dirty clothes getting out of control, or piles of clean clothes and no time to put it away. Getting a schedule down of how you are going to "do" the laundry can make all the difference.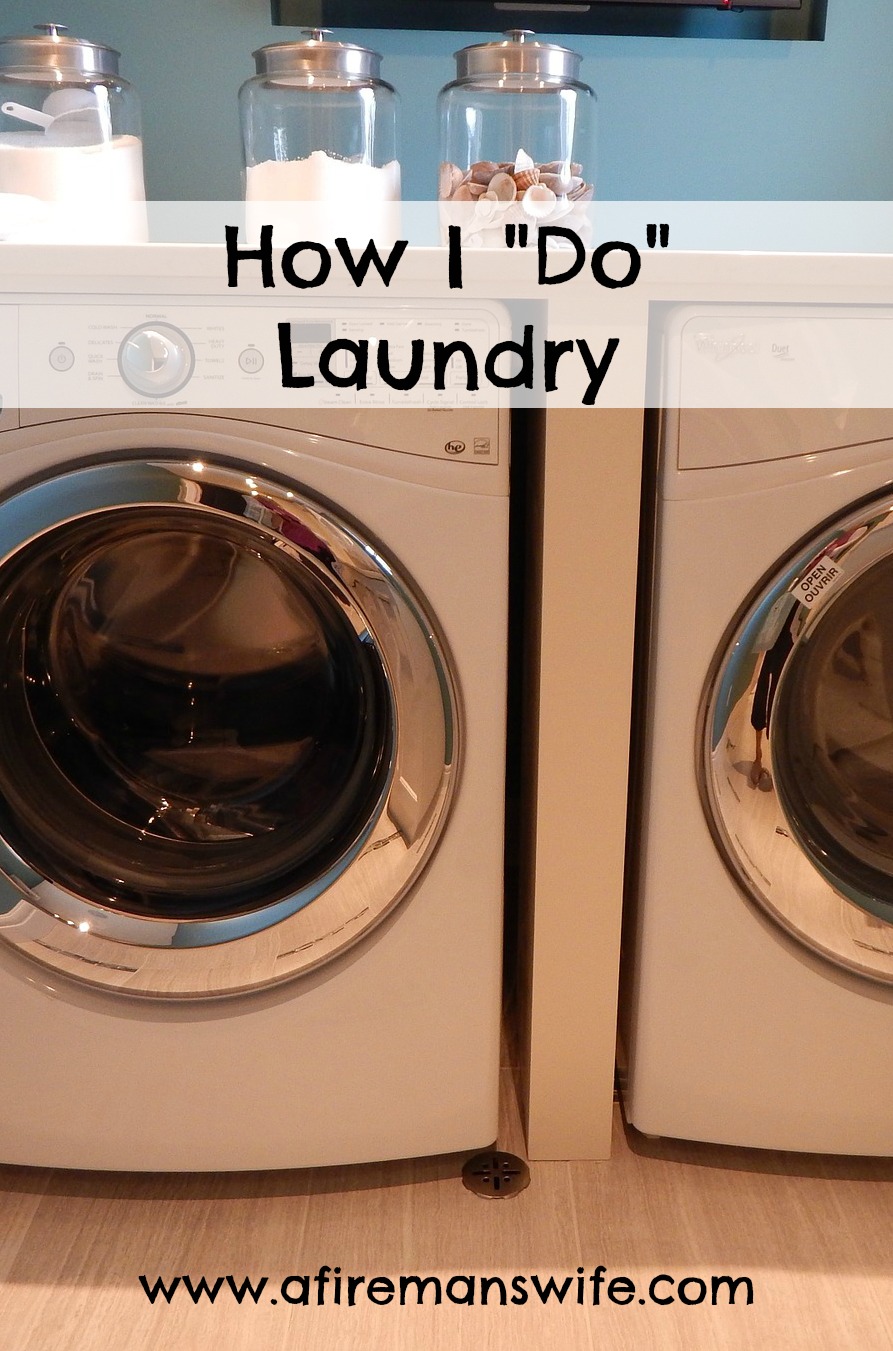 I think no matter how small or large your family is you can benefit from some kind of laundry schedule.  My family size is still kind of on the borderline of not really being large, but not necessarily small anymore either.  I knew after having my 3rd baby that something needed to change from what I was currently doing.  When I was first married, and up through having 2 kids, I still got away with only doing laundry 1 day a week for the most part.  Right after having a new baby I would sometimes need to do an extra load here and there, or sometimes I would do sheets and towels on a different day but for the most part it was 1 day a week.  After having 3 kids I would often dread the laundry because come Saturday, my former only laundry day, everyone's baskets were so full so it would take forever to sort, I was doing 5 or 6 loads that day, then after it was out of the dryer it would get piled back in the baskets and these huge heaping mounds of clean laundry would sit on the floor at the end of my bed for at least 3-4 days because I never had a chance to get it done!  It took me so long to wash everything on Saturday that I was just too exhausted to think of taking another hour to put it all away!  Can anyone else ever relate??
It was after having my 3rd baby that we were also going to start homeschooling so I knew I needed to figure something out.  There had to be a better way than saving it all for one day.  Thankfully as I was preparing for my first year of homeschooling I learned about scheduling my days and that included laundry!  I learned that I can schedule in my days when I sort laundry, do the laundry, and even have time the same day to put it away.  Score!  I also learned to recruit helpers (aka my daughters) to help sort and put it away!
This is what my laundry schedule looks like:
My goal is to do no more than two loads of laundry on my clothes laundry days, one dark load and one light load, so it is kept easily manageable.  I also only wash clothes, not sheets and towels, during the school days of Monday through Friday, unless someone has an accident.  I want laundry sorting and putting away to be as quick and easy as possible during the school week and not have the extra job of folding a bunch of sheets and towels.  That is saved for the weekend when I am not trying to fit in school.  And then likewise on the weekend I am not worried about doing any clothes washing when it is time for sheets and towels.  If something needs to be destained in the time between laundry days I just treat it and then I toss it in a laundry basket I keep on the floor of the laundry room for wet or stained treated stuff.  Then it gets added to the wash on the next laundry day.  Depending on your family size will determine how many days in your week you need to schedule laundry.  Up until recently I was able to just do clothes laundry during the week on Monday and Thursday.  My husband washes all his work stuff at the station otherwise I probably wouldn't have been able to get away with 2 days a week for so long.  He is only home 4 or 5 days a week so his laundry at home is minimal.  As my boys are getting bigger, and their clothes are getting more bulky, I noticed that our 2 day a week plan for washing clothes was starting to become a bigger task and we were having trouble getting the sorting and putting away done during our allotted 3o min time block…yes only 30 minutes and laundry is sorted and put away!!  So I recently added in a 3rd week day for laundry.  I now do clothes washing on Monday, Wednesday, and Friday.  We are now back to faster sorting and putting away.  Win win!!
So here is what I do:
On Monday, Wednesday, and Friday morning, after I get the boys dressed and ready for the day, but before breakfast, I have everyone dump their laundry in my room.   The kids all have a laundry basket in each of their rooms.  I have two baskets I use for laundry day, one for darks and one for lights, and I sort all the clothes out into the correct baskets.  I often have a helper or two.  🙂  Then I immediately start the first load of laundry.  Then throughout the morning, often during school schedule changes, I will add that load to the dryer, and then start the next, and last, load in the washer.  When that is done I will transfer that to the dryer.  I have until 2pm, which is laundry folding and sorting time in our house, to have both loads washed and dried and waiting in the baskets.  With only having 2 loads of laundry to do on any given laundry day that is very easily manageable.  Then at 2pm the girls have the job of neatly sorting out all the laundry into everyones own piles.  My 4-year-old son has recently started "helping" a little bit too.  I will help when I can but at 2pm I am putting my youngest down for nap and then usually finishing cleaning up the kitchen from lunch.  When I am done with that they are usually done sorting and it is time for us to put it all away.  The girls take their laundry to their own rooms and hang up what goes in their closet and put away what goes in their drawers.  Meanwhile I take mine and my husband's clothes to our room and put that all away.  By 2:30pm we are all done and can move on with our day!  Because my youngest is napping in the boys' room during laundry put away time I have a small block of time after getting him up from nap where I put their clothes away real quick.  I also don't iron in this season of life.  I just don't unless we have a wedding or a special occasion/event coming up.  I don't need to for my husbands job and a spray bottle can do wonders to to relax wrinkles.  Putting stuff away immediately also avoids wrinkles.  Maybe someday I can get back to it but in this season of life not now!  Let me tell you that this laundry schedule has been so freeing and has worked so well for the past 3 years.  I love never having baskets of clean laundry just piled up at the end of my bed waiting for me to put away!
What I use for my laundry:
About 3-4 years ago I started switching all my personal, cleaning, and laundry products to natural and toxic free.  I can tell you this change did not happen overnight and it has been a slow gradual process.  I remember when I first heard that my favorite lotions, hand soaps, and candles were all toxic and contained parabens, petrolatum, sodium laurel sulfates (SLS), and artificial fragrance or "perfume" just to name a few, I was actually sad.   I loved this unnamed lotion store so much, I would even get different scents and soaps to match the seasons or holidays….I mean how fun is that!  But after learning how all my personal and cleaning products were toxic and are known endocrine disruptors, and can be linked to cancer and other problems I could not in good faith keep using those products for myself or my family.  So to make the switch I started by just replacing  a product with the natural non-toxic version when I ran out of that item.  I have also changed over the years what natural products I use as I have tried different things out and realize what I like best.  So getting back to laundry it is so important to think about what you are washing and drying your clothes in.  Your skin is the largest organ in your body….do you really want to be putting toxic chemicals all over it from what you cleaned your clothes in??  Store bought laundry detergents and dryer sheets contain alpha-terpineol, benzyl alcohol, and camphor, which are all toxic ingredients that cause central nervous system disorders, loss of muscular coordination, central nervous system depression, headaches, nausea, and vomiting.  No thank you!!  It is time to switch over to plant-based products so you and your family can have the perfect wellness that God has always intended for us to have!  So for the past few years I have been using The Honest Company laundry detergent but with my new Young Living Account I plan to switch to Thieves Laundry Detergent. In the mean time while I am finishing up my other stuff, I just add a few drops of Thieves Essential Oil right into the wash water with the detergent.  Why Thieves???  Because it is the most amazing blend of highly antiviral, antiseptic, antibacterial, and anti-infectious essential oils!  Talk about clean clothes and it smells amazing too!  Young Living also has a  Thieves Household cleaner that you can use right in your washing machine instead of  the Thieves laundry detergent.  This cleaner is amazing and you can safely clean your whole house with it.
Now we all like clean good smelling clothes when we take them out of the dryer but you have to ditch those Toxic dryer sheets!  Switch to this instead.  
The answer is wool dryer balls!  I get mine here on Amazon. (Affiliate Link) This is a 100% natural replacement for chemical filled dryer sheets. They work by bouncing around in the dryer, reducing static cling, and literally softly "beating" your clothes. The balls shorten drying time by wicking moisture away from your clothes and they last a really long time. Adding essential oils the the dryer balls lightly scents your clothes and adds one more way to get the wonderful benefits of oils into your life.  My favorite oils to add to the dryer balls are Lavender and Purification.  I usually add about 2 drops of oil to 3-4 of the dryer balls.  I have been using the dryer balls with essential oils for about 6 months now and I love it!
So why did I choose Young Living for essential oils when there are so many oils out there and ones you can just get at the store??  Well, because for over 21 years Young Living has been the world leader in producing and guaranteeing 100% pure and potent therapeutic grade essential oils and plant based products. They've got this standard called "Seed to Seal," which places them in a category higher than any other company in the world. Basically, what "seed to seal" means, is from the time the seed of the plant is sourced, until it is put into an essential oil bottle or a plant based product, Young Living applies the most rigorous quality controls possible to ensure that you are receiving the product exactly the way nature intended it to be. Simply put, the only thing inside the essential oil bottle is the plant itself – no additives, fillers, synthetic fragrances, preservatives, or dyes (which is NOT the same for store bought essential oils). The same goes for all of their products – the only ingredients within the products are the ones listed on the label, and they are all plant based. Not one single ingredient is synthetic, toxic, or chemically derived.
If you need help getting your hands on these great oils and products leave me your email or you can grab your starter kit here and start ordering!  If you have a few more questions first leave me a comment or check out this post here.  Here's to happy healthy laundry!
I would love if you would join my Friday link-up!
Click here to enter to win a free Flexi Clip!