This post contains affiliate links.  Thanks for your support!
We are well into summer now and it's the time of year for us homeschooling moms to start thinking about next school year, if you have not started doing so already. 🙂  Time to reflect on the past year and think about what worked, or what didn't work with your curriculum, to see if you need to make any changes.  If you have never homeschooled before and maybe thinking about it, or have been doing it for years, I hope I can be an encouragement to you by sharing how we homeschool.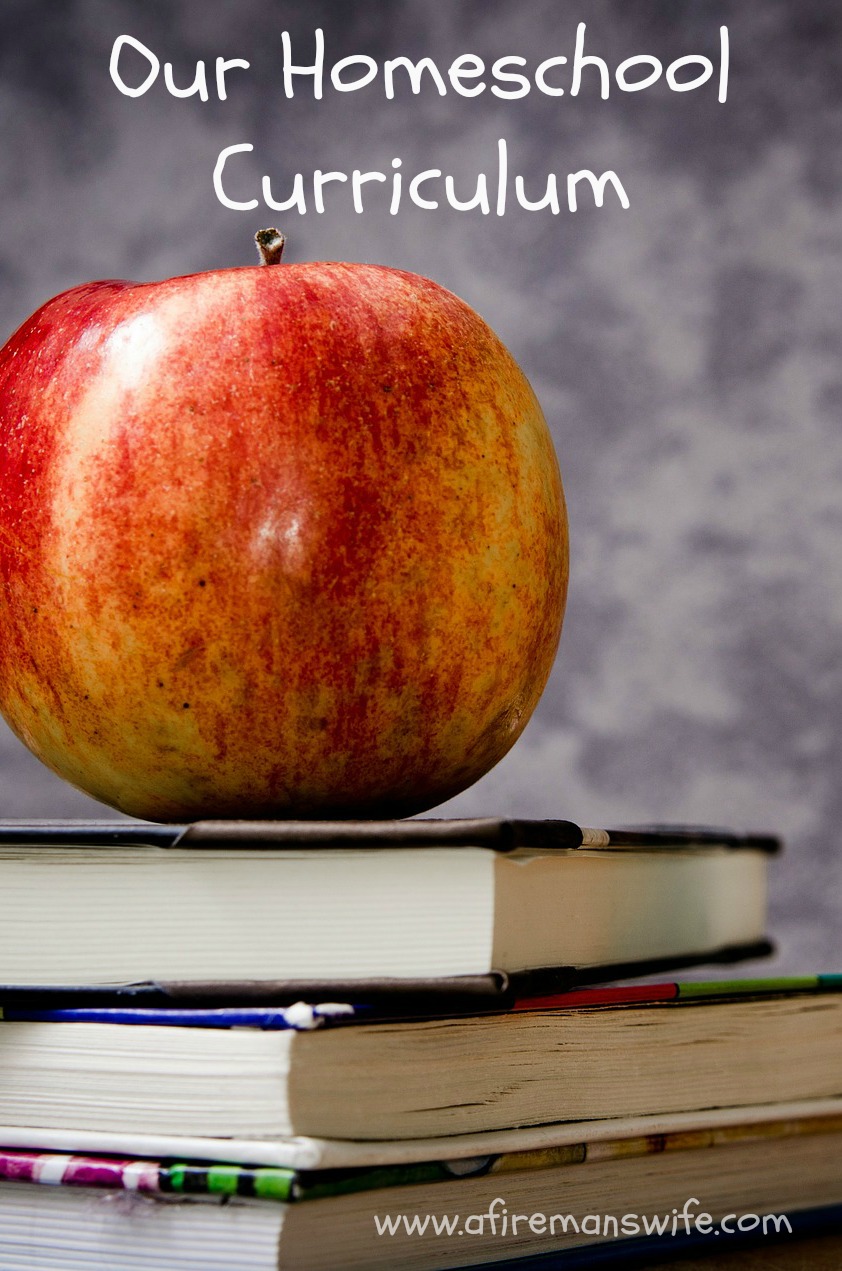 I know homeschool curriculum is a very personal choice and it will look different for every family.  I am by no means saying this is how YOU should homeschool, I just wanted to share how WE homeschool.  I remember when I was first starting out I would scour the internet looking for homeschool blogs and any info I could find on what other people did.  It can seem kind of intimidating up front so I loved getting recommendations from others!  My oldest is going to be in 6th grade next year so I only have experience up to this point, but I will be happy to share what we have done so far.
What Style of Curriculum Did I Choose?
It might sound silly but I remember thinking that if people with 8, 9, or 10+ kids can homeschool, me with my 3 kids back then, only 2 of which were going to be in school at the time, would totally be able to do this!  So I wanted to know their secret.  How did they do this??  Now of course this won't be for every large family but some tips I found out were 1). Schedule your day, which I will talk more about in another post, and 2.) find a curriculum that doesn't require a lot of prep time from mom and one that can train your child to work more independently as they get older.  FEW!!!  That was exactly what I needed.  To be honest at first, and before I had found this out, I was intimidated at the thought of having to daily come up with lesson plans, teach two separate grades, keep my almost 2 year old occupied, all while being newly pregnant with baby #4.  I would have definitely become stressed, exhausted, frustrated, and probably would have quit from burnout.
I also wanted to find curriculum that I could hopefully stick with and not feel like I needed to change every year.  For me the answer was in a self-paced work-text curriculum, and starting in 3rd grade bringing in some online choices if the child chooses.  My older daughter did choose this and now by 5th grade does all 4 of her core subjects online.  Whether using the work-text curriculum, or the online, both of those require minimal to no before prep time from me.  Win win!!  That was the perfect answer for this busy mom so I wouldn't experience burnout.  And the beauty of this is that when making your daily schedule each subject can be scheduled into 30-45 minute time blocks.  (Like I said above I will go over how I schedule our day in another post.)
So I will start with 5th and 6th grade and work my way down to preschool with what we use or have used.  We have not homeschooled 6th grade yet but next year we will be doing the same thing with my daughter that we have done in 5th grade.
5th and 6th Grade
Math– Teaching Text Books.  This is available starting in 3rd grade and can be used all the way through 12th grade.  We did start this in 3rd grade with my oldest daughter and it has been wonderful!  This is a computer based program , great for independent learners, and it is like a teacher and a text book all in one!  My daughter has done very well with this and always feels like the lessons are easy to follow.  When they miss a problem the computer will go over with them why they missed it instead of just telling them that they are wrong.
Language Arts, History and Geography, and Science.  For all three of these we use Switched on Schoolhouse (SOS) through Alpha Omega Publications.  SOS is done on the computer with no lesson planning required by me!  It even does most the grading.  For any fill in the blank answers or reports my daughter does I will have to go in and grade them.  Because my daughter does her school independently throughout the morning I have a scheduled half hour tutor time with her in the afternoon to go over everything, finish grading assignments, and make sure she is staying on track.  When we started homeschooling it was important for us to use a Christian based curriculum.   I love how all of AOP's curriculums are Christian based.
4th Grade
Math-  Teaching Text Books
Science- Switched on Schoolhouse (SOS).  A good perk using SOS for science is that if for some reason you can't get your hands on everything you need for an experiment they always have a video of the experiment that your child can at least watch.  We really try to do the experiments as much as possible….but let's be real here…sometimes life happens and you just can't easily get everything your child needs.  Big relief!!
Language Arts, and History and Geography- For both of these subjects in 4th grade we use Lifepacs.  Lifepacs are also sold through Alpha Omega Publications.  They are a self-paced, all-inclusive, bible based worktext curriculum.  Each subject comes in a box with a set of 10 worktexts for the year.  These also don't require any prep work from me!  The Lifepacs promote independent learning and by 4th grade my daughter was doing these by herself and I just went over everything with her during her afternoon tutor time with me.  The Lifepacs and SOS are very similar just one is online and one is a worktext.
3rd Grade
Math-  Teaching Text Books
Science-  Switched on Schoolhouse (SOS)
Language Arts, and History and Geography- Lifepacs.  Just FYI (SOS) is available for all subjects starting in 3rd grade.  I just wanted to give my daughter more time to practice writing in 3rd and 4th grade before everything went on the computer.  I would have let her continue with the Lifepacs if she wanted but she chose to do all her subjects online by 5th grade.
2nd Grade
Math, Science, Language Arts, History and Geography- Lifepacs.  Using Lifepacs for all 4 core subjects this year has worked well for my daughter.  Like I mentioned above Teaching Text Books for math and SOS don't start until 3rd grade.
1st Grade
Math- Singapore Math.  This was the last year I chose to use this math curriculum and I am still not sure if I will use it for 1st grade with my boys?  Parts of it were really good but when they really started getting into addition and subtraction with 2 digit numbers it was very confusing because they wanted them to learn to solve every problem horizontal.  It was very confusing for my daughter how they wanted them to group everything out, even my husband and I didn't like it, when it is just so easy to solve problems with the numbers stacked on top of each other.  So we made it through the year but we probably won't be using this again.  Next time I will probably use 1st grade Lifepac math.
Science, Language Arts, History and Geography- Lifepacs
Kindergarten
How I taught Kindergarten was a little different.  After researching what to use before I started I was advised not to get a full Kindergarten curriculum.  Best decision ever!  I was told that some of those all-inclusive curriculums can be very long, tons of work, and overwhelming for a little kindergartner.  The main goal is to just focus on reading and math.  That is what we did and it was a great year and not overwhelming at all!  I did not feel like my daughter was behind going in to first grade.  I actually felt like she was ahead starting first grade knowing how to read.  So here is what we did.
Reading- Teach Your Child To Read in 100 Easy Lessons.  I thought this was an excellent curriculum for teaching reading.  As the stories got longer towards the end of the book, and if we couldn't finish the lesson in our 3o minute time block, we just picked up where we were at the next day.  I didn't stress about it if we didn't finish the lesson in the 20 minute time frame the book said it should be done.  The importance was the consistent reading practice every school day.  I also love how at the end of each reading lesson they have writing practice.
Math- Singapore Math Essential Math A & B.  I thought Singapore math worked very well for Kindergarten.  We just did a few pages each day.
I also used the Scholastic Success Kindergarten Workbook.  You can see what it looks like clicking on the link but they also have them at Costco every summer before the school year starts.  This was recommended to us and my daughter loved it!  She was so excited to use this every day.  After reading and math I let her do a few pages in this each day.  It was great because it gave more practice in phonics, alphabet, handwriting, and math.  I usually let her pick what section of the book to work in that day, but I always had her go in order of the section she was in.  For example the math pages kind of build on each other so best to go in order.
We also had some phonics cards that we would work on some days but honestly with the reading program we were doing I didn't feel like we needed to do this every day.  Then about mid way through the year we added in a few Explode the Code books.  These are great for additional phonics practice.  So our whole Kindergarten day was about 1 1/2 hours!  Perfect and low stress but my daughter learned a lot!
4's Preschool
This is the one year I have not taught yet but I am going to be using the Horizons Preschool Curriculum Set next year with my son.  This can be purchased through Alpha Omega Publications.
3's Preschool
For 3's preschool I use the Horizons Preschool for Three's Curriculum set.   This can also be purchased through Alpha Omega Publications.  This curriculum is broken down into 40 lessons.  Each lesson has a bible story we read everyday, a memory verse, worksheets to introduce letters and counting, and one to reinforce the bible lesson.  They also give additional suggestions with each lesson for craft projects, songs, and activities.  Each lesson can be spread out as far as the whole week or you can finish it in 3-4 days.  That just depends on how many worksheets you want to accomplish each day.
So that takes care of what we use for each grade level.  Every afternoon my girls have a quiet/reading time where I can assign books I would like them to read and they can have time to choose books they want to read.  I also do character training with the kids using Character First Curriculum.  You can read more about that in this post here.  I don't do a separate bible curriculum with my older kids.  All of their curriculum is Christian based so they get some of that in their regular lessons and also during family bible times, Wednesday night church during the school year, and Sunday at church.
I hope that helps give you some ideas.  If you are thinking about a new curriculum it really helps to go online and read as many positive and negative reviews on it as you can find.  What one person says is a negative might be a positive for you and vise versa!  If you have a curriculum you love using I would love to hear about it in the comments below.  That is also a good way for others to get additional ideas if they are seeking something new or how to get started.