This post contains my affiliate links.
I love everything about this season!  The decorating, baking, music, lights, and most of all celebrating the birth of Jesus.  I love traditions and making memories with my kids.  I pray that this will be a time that they will always cherish too!  I thought I would share some of our favorite Christmas traditions.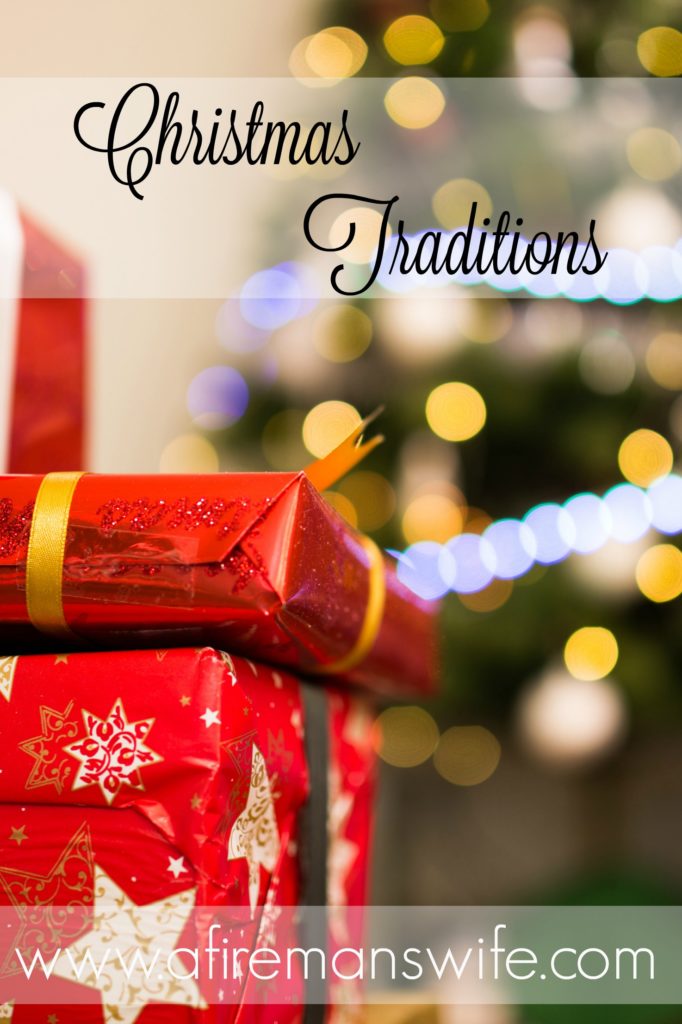 1. DECORATING THE TREE: Usually the weekend after Thanksgiving the fall tree comes down and we transform it into our Christmas tree.  We love making this a family affair with Christmas music in the background!  My tree is eclectic to say the least.  I don't follow a color or ornament theme.  I love how my tree is full of ornaments from different ages and stages of our life.  I love the memories it carries from times when my husband and I were first married,  to what the kids were into a certain year, first Christmas memories,  trips etc.  Every year a few ornaments are added to the tree, and I have a tradition that each of the kids get a new ornament from something they are into or like that year.  Then when they are older and have their own family, they will be able to take the ornaments with them that they collected throughout their childhood.  I still have a few ornaments on my tree from when I was little!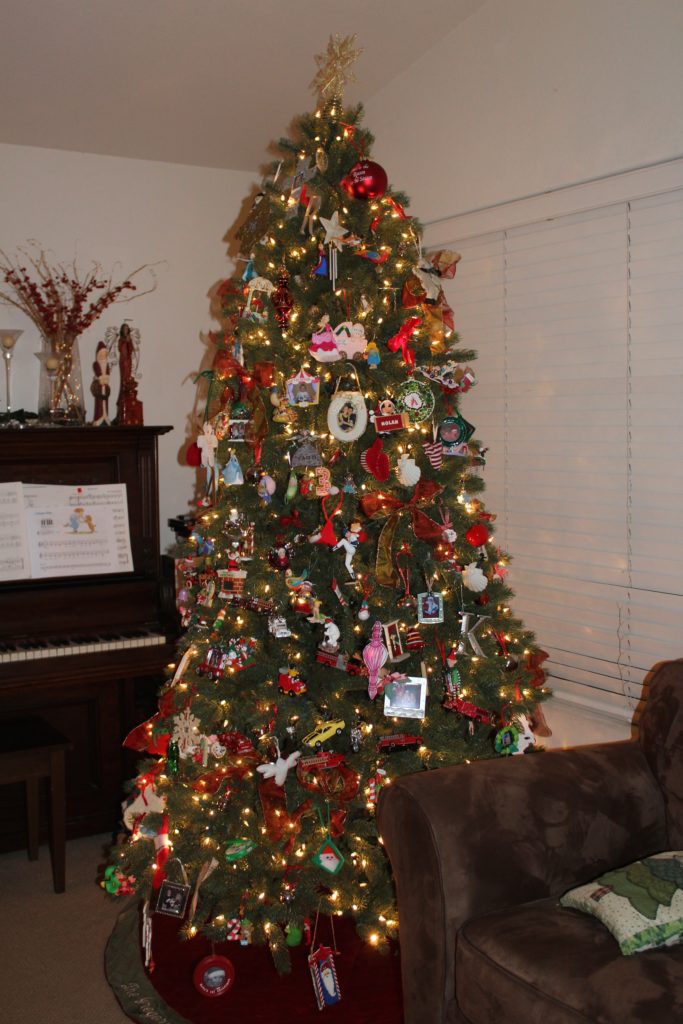 2. COCOA LIGHT NIGHT: This is a fun tradition where we put on our Christmas pj's, make up some hot cocoa, sometimes pop some popcorn to bring along, then we head to the car, turn up the Christmas music so we can sing along, and just drive around and look at Christmas lights.  This is something the kids look forward to every year and they are already asking about it this year.  We don't always tell them ahead of time.  Sometimes we will just say, "everyone go put on your Christmas jammies because it is time for cocoa light night!"  We put everyone's cocoa in insulated or travel coffee cups to keep it warm and hopefully avoid spills.  This year I may put a note in the advent tree, on the day we plan to go, letting the kids know that tonight will be cocoa light night.
3. CHRISTMAS MUSIC:  For me most things done this season revolve around Christmas music being played in the background, as I have mentioned it in the two traditions above.  I love it and I try to soak it up for as long as I can.  I am that person that starts listening to it mid November and will keep it up through New Year.  My husband loves to annoy the guys at the fire station by playing Christmas music in the Fire Truck before Thanksgiving, they are quick to remind him that the turkey has not been cooked yet!  We also like to play Christmas music on the piano and sign along.  I play the piano a very little bit, like I can play the primary level books and some level one books, but we still have fun!  My older daughter has now gotten better than me so she can lead the piano Christmas songs now too! 
4. CHRISTMAS BOOKS AND MOVIES:  I love putting out books for any holiday but especially for Christmas!  I have mentioned before my Holliday Basket that I put out for all holidays, and for Christmas the basket is just stuffed with books!  No other Christmas toys will fit, those just kind of hang out on the fireplace hearth next to the basket.  Like the ornaments, we always seem to end up with a new Christmas book or two every year to add to our collection.  I still have a few of them from when I was little.  I love how the Christmas books are the ones that my kids will choose for story time every night during the season.  I try to have most the books reflect back to Jesus, since He is the reason for the season!  As soon as Thanksgiving is over we love to have family Christmas movie nights with popcorn and hot cocoa of course!
Here is my Christmas Holiday Basket.  I actually have way more books than this but I tried to clean it up for the picture.  
5. ADVENT AND SCRIPTURE READING:  Every year we make a point to make sure we are reading scripture with our kids about Jesus' birth.  Sadly it is so easy for Jesus to be lost in the season.  This year I have loved my Advent Tree that has a little scripture card in it each day.   The kids love reading it together before our homeschool day starts and then hanging the verse on the tree.  We have also used The Story of Christmas Story Book Set and Advent Calendar in the past.  The kids have also really liked this as the time leading up to the birth of Jesus is told in story form, and again they get to hang the story ornament on the tree from each day.  *Disclaimer-That one is not actual scripture just in story form.  We will also have times during bible night where we will read the story of Jesus' birth right from the Bible.  Here is also a great daily devotional that I have found for mom, to keep us going though the season!
6. BAKING: Christmas baking is always a favorite around here!  Throughout the month of December we enjoy making yummy treats!  Some favorites every year are snickerdoodles, candy cane sugar cookies with a candy cane kiss, fudge (which my husband always makes), and good ol' regular sugar cookies.  The sugar cookies are always made every year on December 22 or 23 and then we decorate them as a family on Christmas Eve morning, or Christmas Eve Eve if my husband works Christmas Eve.  I will make and color the frosting and then put out lots of sprinkles.  The kids, and mom and dad love this!  I will try to get a few of these recipes posted soon!
7. GINGERBREAD HOUSE DECORATING:  This started years ago as a fun tradition that my mom and sister would do with my girls, before the boys were born.  Now that my sister is married and has a family she hosts a gingerbread house making party at her house where all the cousins are invited from both sides of the family.
8.  TREASURE HUNT:  My mom started this with the kids a few years ago.  We are always at her house on Christmas Eve night and she started a tradition of creating a treasure hunt for the kids.  This works better when your kids are old enough to read, or at least when one is older, so they can read the clues for the younger ones.  She has them running all over the house and outside looking for clues.  She purchased a small treasure chest that she fills with little treats or small gifts for them at the end.
9. OATS AND GLITTER:  Every Christmas Eve morning, after we are done with cookie decorating, the kids decorate a paper bag and they sprinkle in some oats and glitter.  This is our Magic Reindeer Food that gets spread all over our front yard Christmas Eve night.  Then we come back in and read The Night Before Christmas before bed.
10. MATCHING PAJAMAS ON CHRISTMAS DAY!  Our Christmas day is super casual.  So casual that we stay in our pajamas ALL DAY and love it!  We don't go anywhere on Christmas day so we can get away with it.  Every year we all get coordinating pajamas, or at least the kids will match and the adults will match.  This year we got these for the adults and my oldest daughter and we will just wear a gray shirt with them, and we got the kids these.
I hope everyone has a fun season making memories with their family!  I would love to hear some of your favorite Christmas Traditions in the comment section.