This post contains affiliate links.
I have always loved making the holidays special and a BIG DEAL for the kids.  From the time when my oldest was little we enjoyed collecting things like books, toys, decorations, clothes , or preparing food to go with the current holiday.  Still to this day after one holiday ends the kids are asking when it is time to take out decorations for the next!  So of course I have holiday decorations that I put up throughout the house, but years ago as I also started collecting items geared more towards the kids, I realized it would be fun to have a special place just to put their stuff.  So I came up with the idea of the Holiday Basket.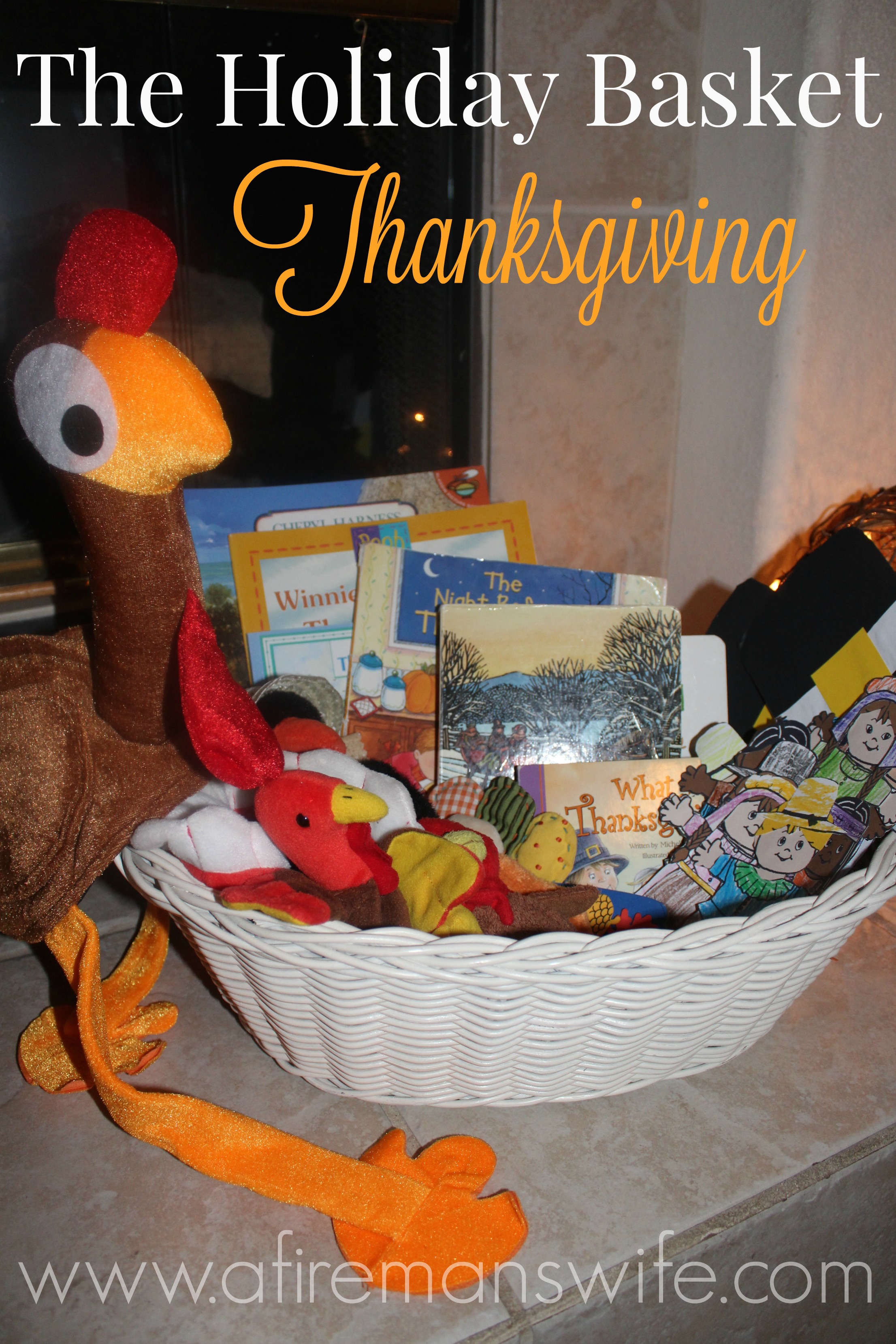 The holiday baskets contain anything from books, small stuffed animals or toys, maybe a craft or something that they made that they still like to play with the next year.  Most of the stuff in the basket is the same year after year as I still have new little ones coming up.  I think that is what makes it fun for them as they look forward to that certain toy, or book, coming out again that they only get to play with during that holiday month.  Sometimes new items make it into the basket, especially in the beginning when I started doing this and I was trying to "stock" the basket I got more, but usually I only get one or two new things for it every couple of years.
So here is what is in our Thanksgiving basket this year.  It is probably the neatest it will ever be, ha!, as it is played with daily!
I have broken it down so you could see more up close what I have in the basket.  First I will start with the basket itself.  This basket has been great!  It is the perfect size for all the holiday goodies and I love how sturdy it is and has handles on the sides.  I got it at Pottery Barn Kids years ago and I looked and they still have it!  They show it on sale right now as being a Halloween treat basket.  I have also seen them selling it around Easter time as well so it may be back then too.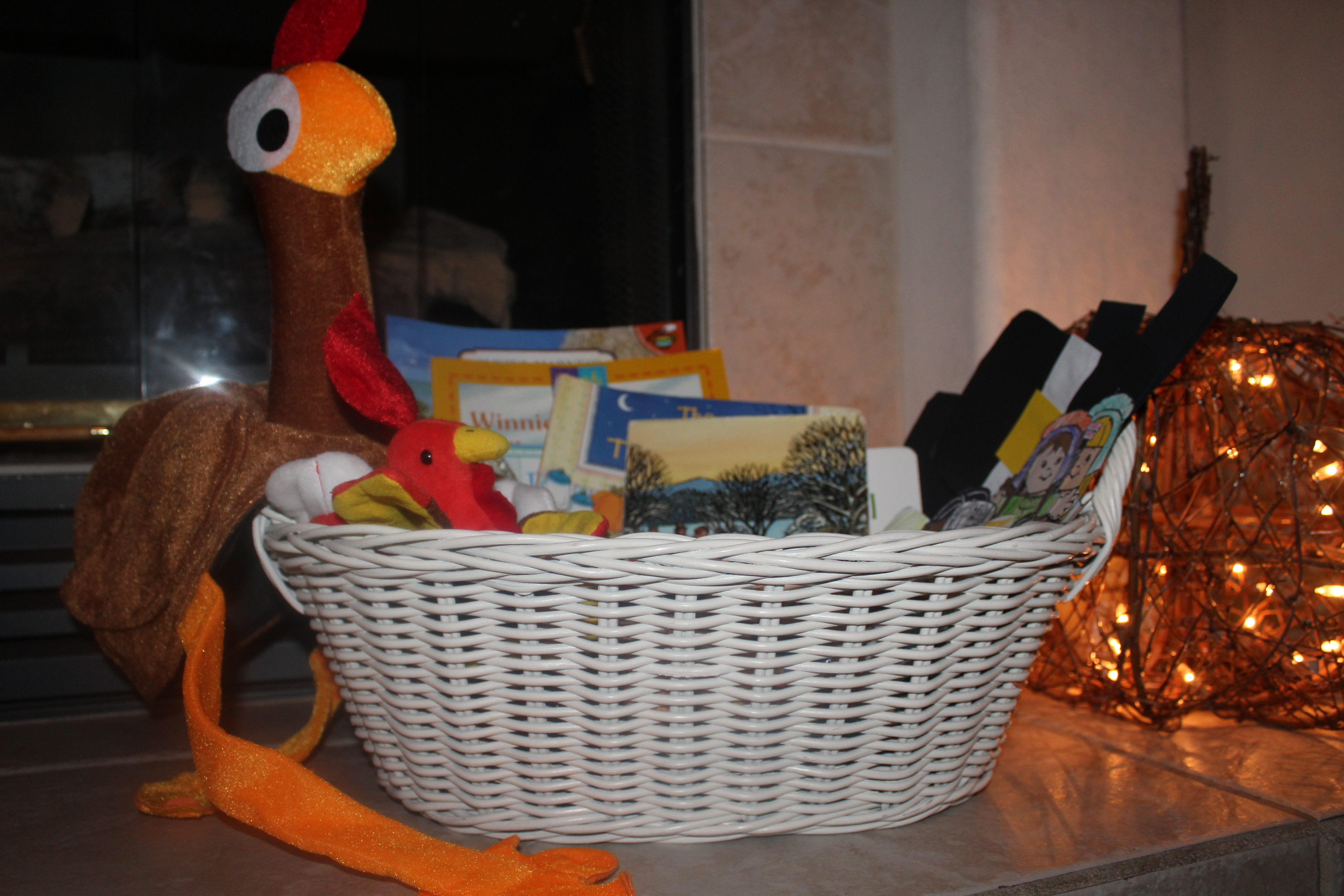 Here are the Thanksgiving stuffed animals in our basket.  A few old Beanie Babies, that my 3 and 7-year-old love, a baby rattle, and my husband's turkey carving hat from the Target dollar section two years ago.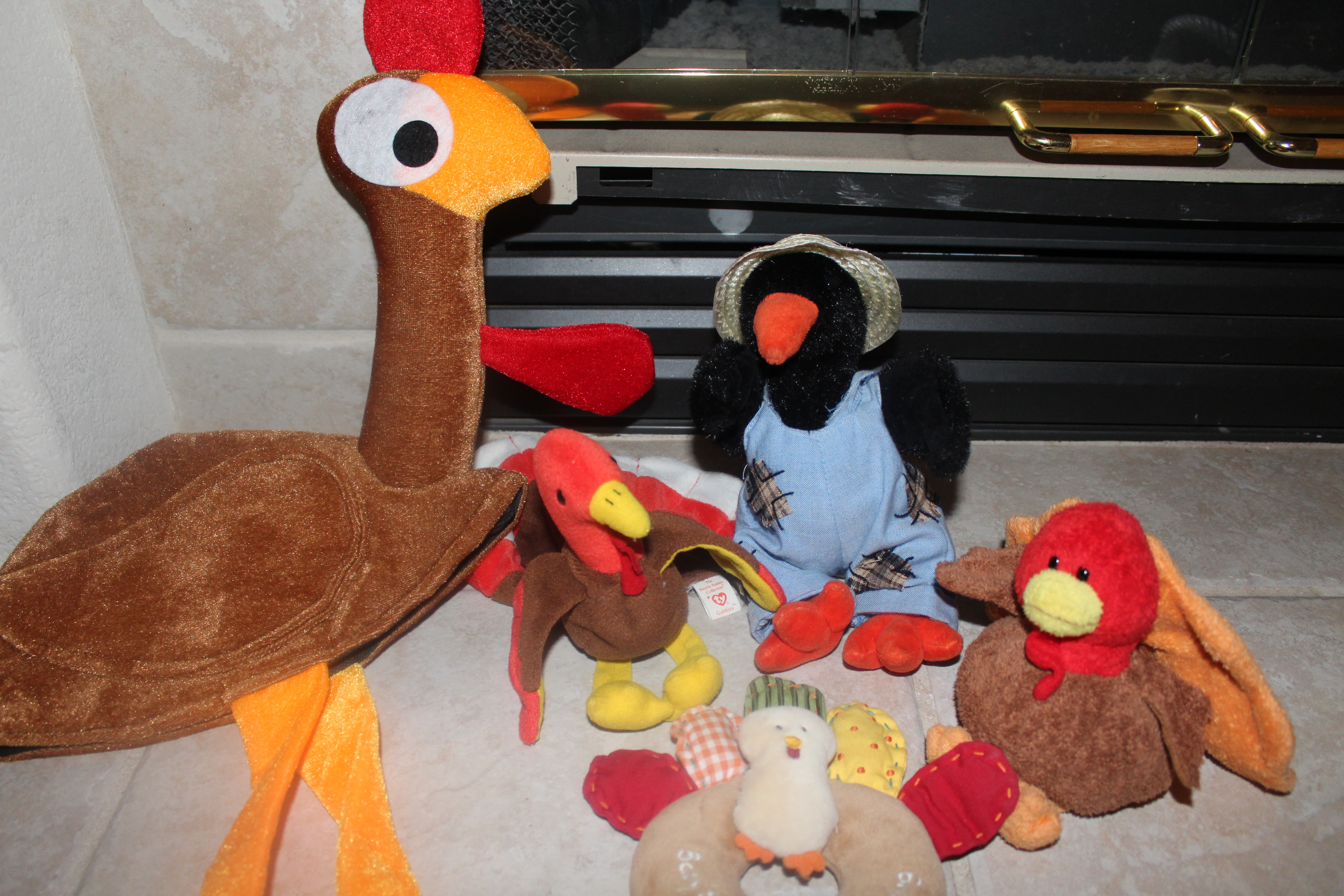 Here are some former crafts that the kids have made.  I don't always save every craft they make in the basket but if it's something that they will want to wear again or play with I do put it out again.  The pilgrim hats were made about 4 or 5 years ago and now my 7 and 3-year-old still like playing with them.  They are stapled in the back and just the other day I resized them to fit their heads this year.  The pilgrim and indian paper dolls were made by the girls two years ago and those are still a huge hit.  This year my 3-year-old son loves playing with them too!  I found the paper doll bodies here, and the pilgrim and indian clothes here.  They have other holiday paper dolls there too.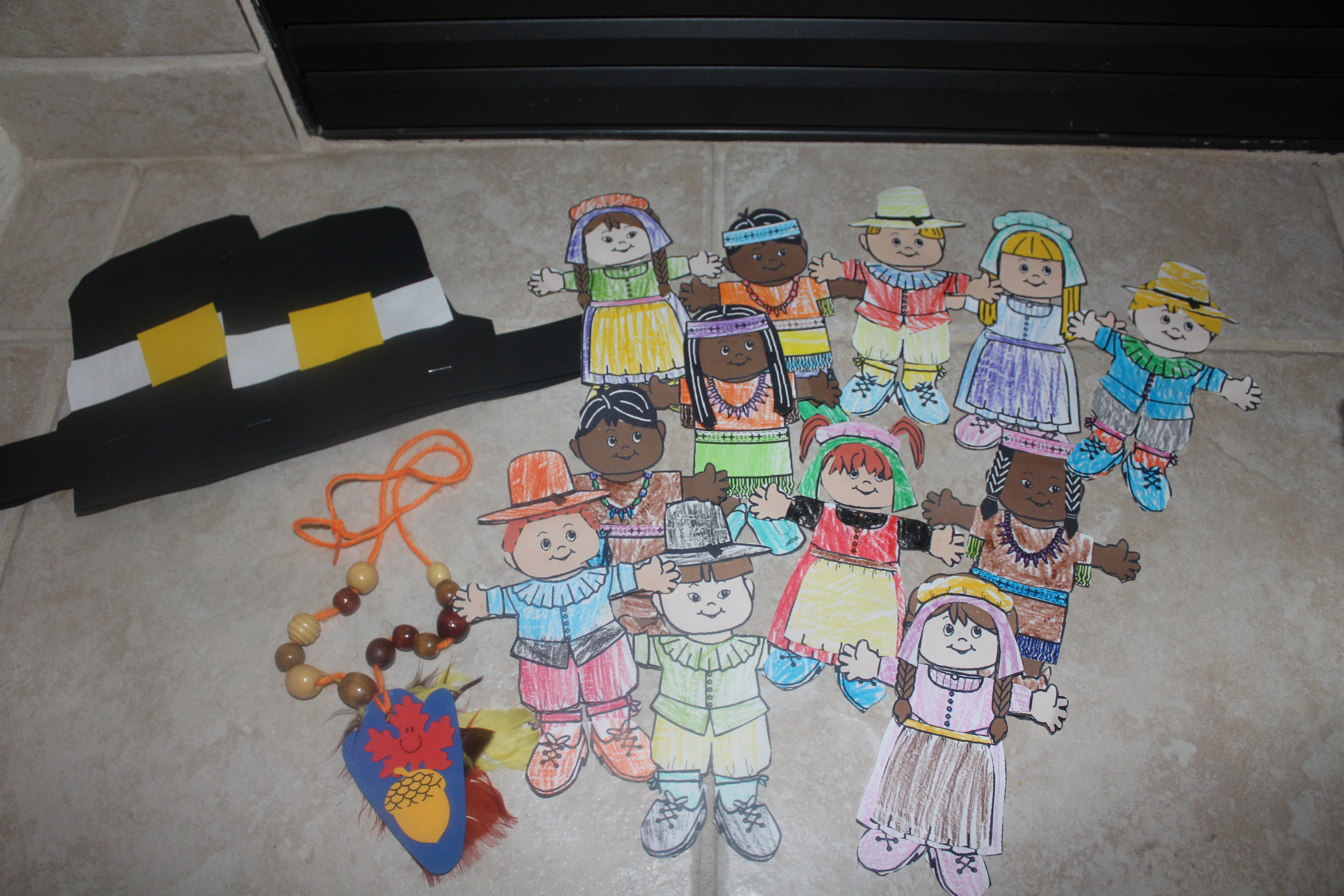 Here is the Thanksgiving Thankerchief and a Thanksgiving memory game.  The Thankerchief is fun to pass around at the Thanksgiving table with the little "chant", and whoever it stops at tells what they are thankful for.  This has my oldest's little hand on it from 5 years ago.  The Thanksgiving memory game I found here.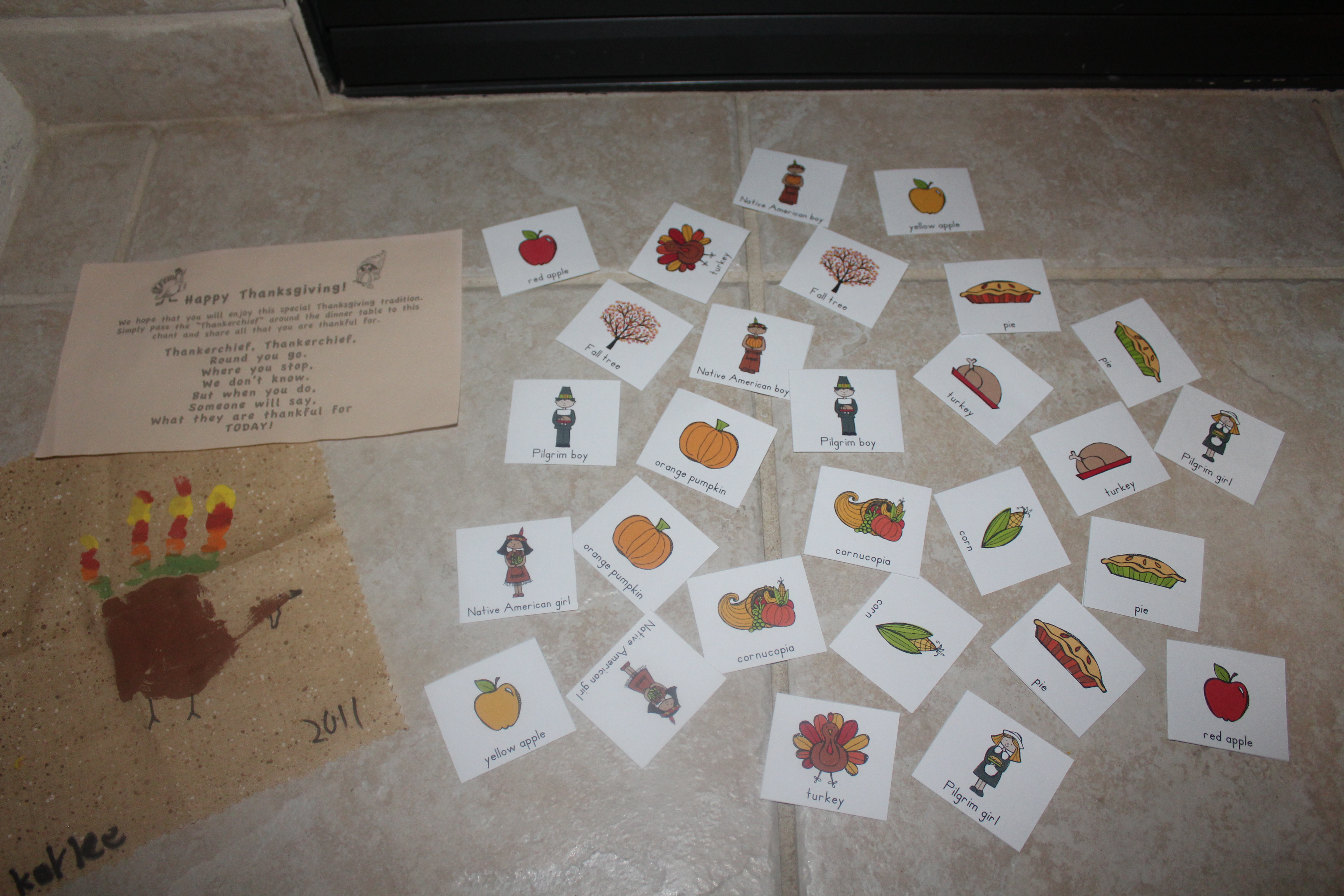 Probably mine, and my kids, favorite part of any of the holiday baskets are the books.  I love having books in there where they can actually learn some history about, and why, we celebrate that holiday.  Of course we have some other fun ones mixed in there too!  The younger kids will request the holiday books for most nights at story time.  Years ago we found "The Night Before Books" and I think we now have one for every holiday!  Those are a fun spin-off of "The Night Before Christmas" and my kids have LOVED them.   Some other of my kids' Thanksgiving favorites are "What is Thanksgiving?", "Over the River and Through the Wood, and "The Story of the Pilgrims".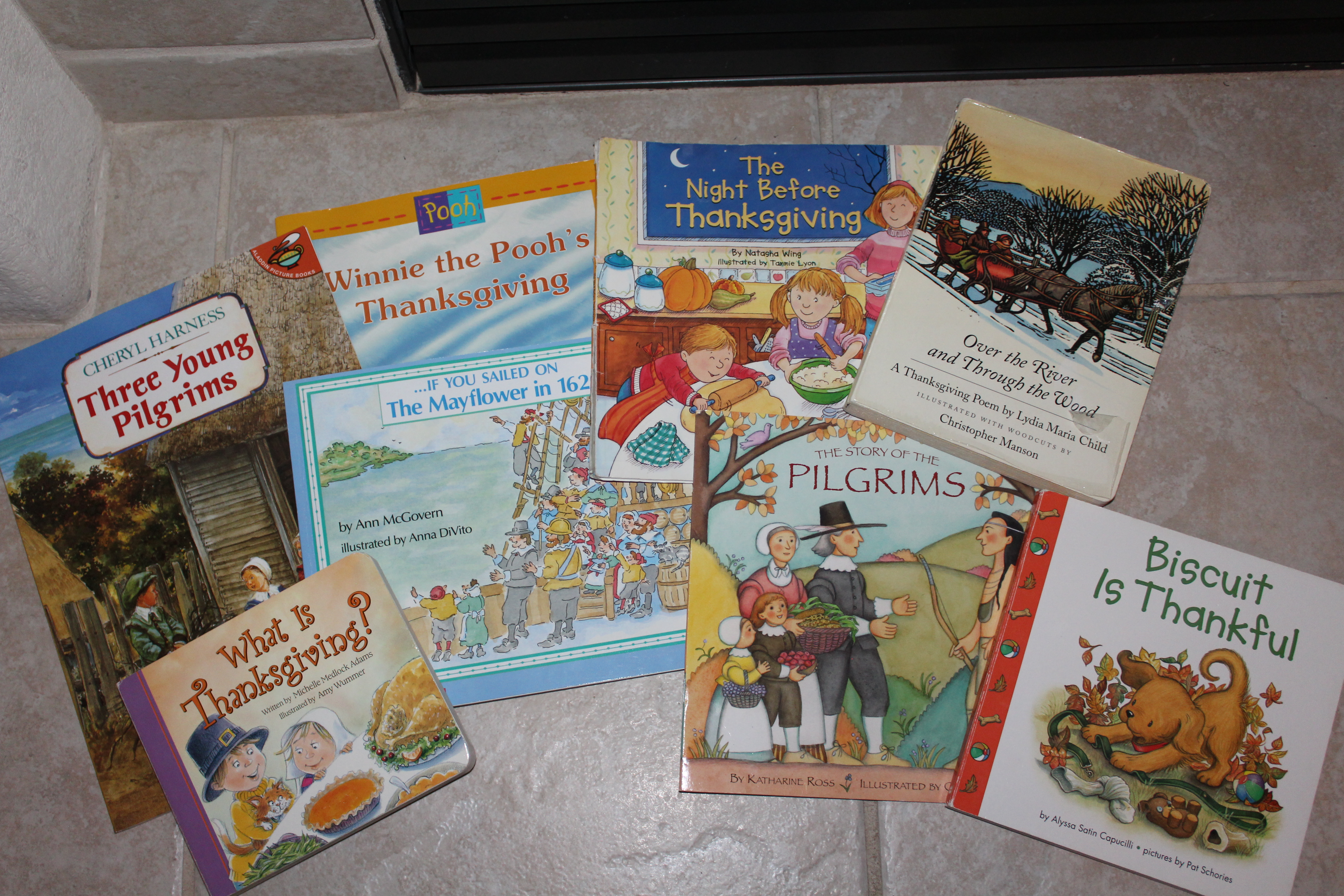 I hope this gives you some great fun ideas of how you can make a special holiday basket for your kids!
This post contains my affiliate links. Read my full disclosure here.