As we enter the week of Thanksgiving I can't help but make up a batch of my Homemade Hot Cocoa mix.  This mix is a staple that you will see on my counter from now until January…usually after that time we are all finally tired of it from the last two months!  But come November again we say "bring it on!"  This recipe was passed down to me from my mother-in-law and I am so glad she did.  My husband grew up having this and I love having this as a tradition around the holidays in our home now too.  This is way better than any mix you can find in the store and it is so simple to make!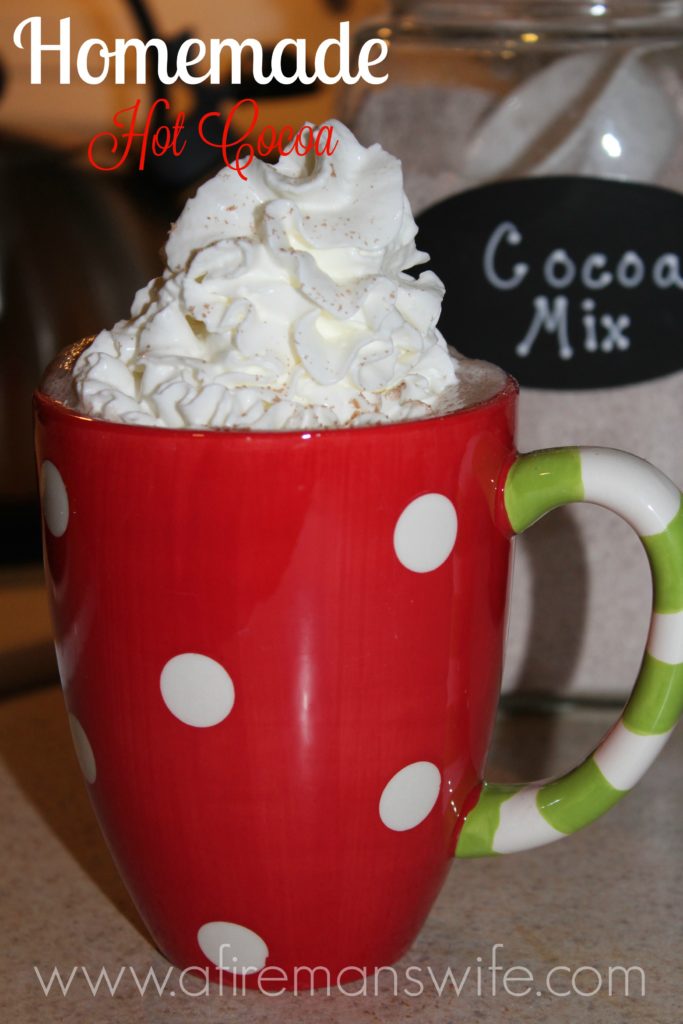 Start with a large bowl, unlike the small glass one I was using, because it will make life so much easier to mix it up.  Add in the powdered milk, Nesquik, powdered sugar, and the coffee mate.  Mix well and that is it for your mix!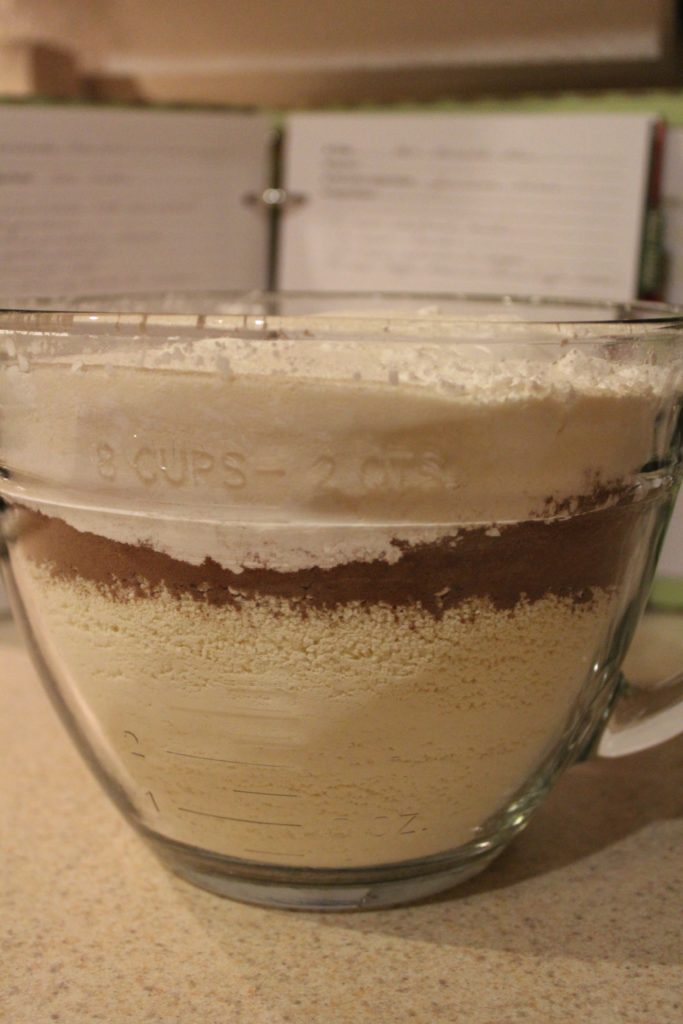 I found this great container to store my cocoa mix in at Hobby Lobby the other day.  So much better than the large glass bowl I had been using for years.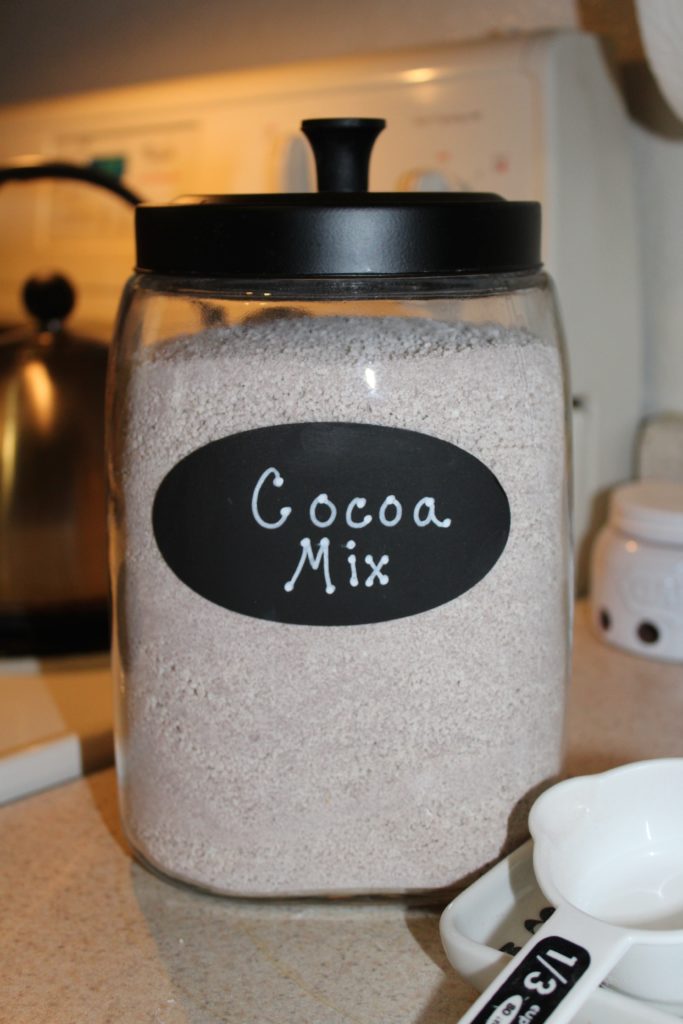 When you are ready for some hot cocoa boil your water and then measure roughly 1/3 – 1/2 cup mix per coffee mug.  If it is a larger mug you may want to add a larger amount of mix.  Then add your boiling water to the cocoa mix and stir up.  Then we have a debate around our house what is actually better to top your cocoa with.  I love and only put whip cream on the top of mine, and my husband will only put marshmallows on top of his.  My kids will put a little of both.  So take your pick!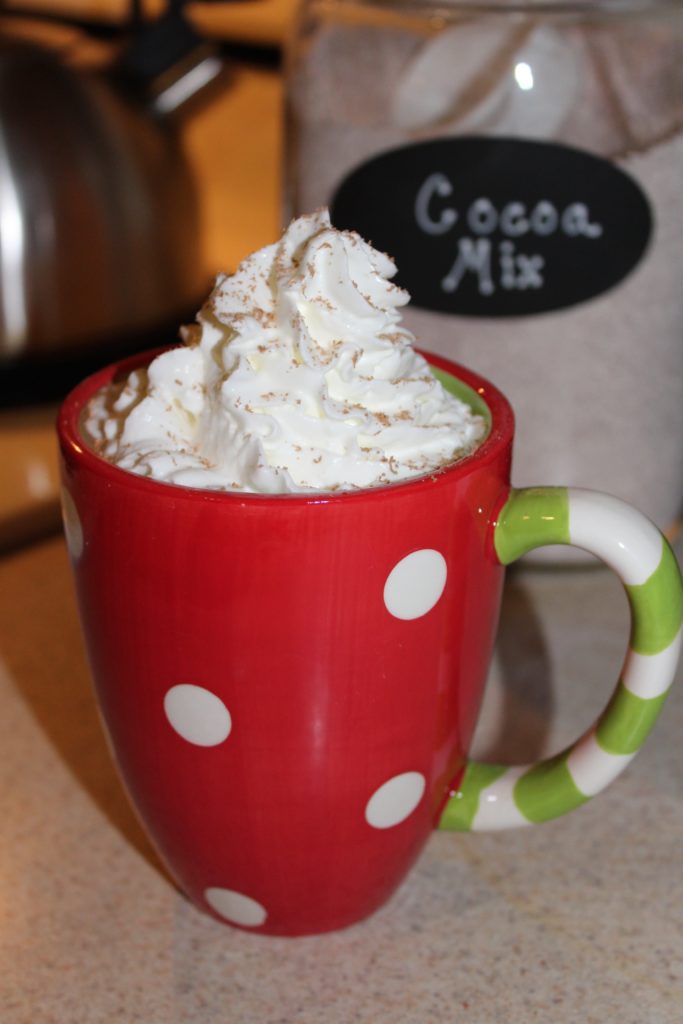 This can also make a great hostess or neighbor gifts around the holidays.  I just printed up little copies of the recipe and added it to a small jar of cocoa mix.  Fun to add in some marshmallows, straws, or candy canes too!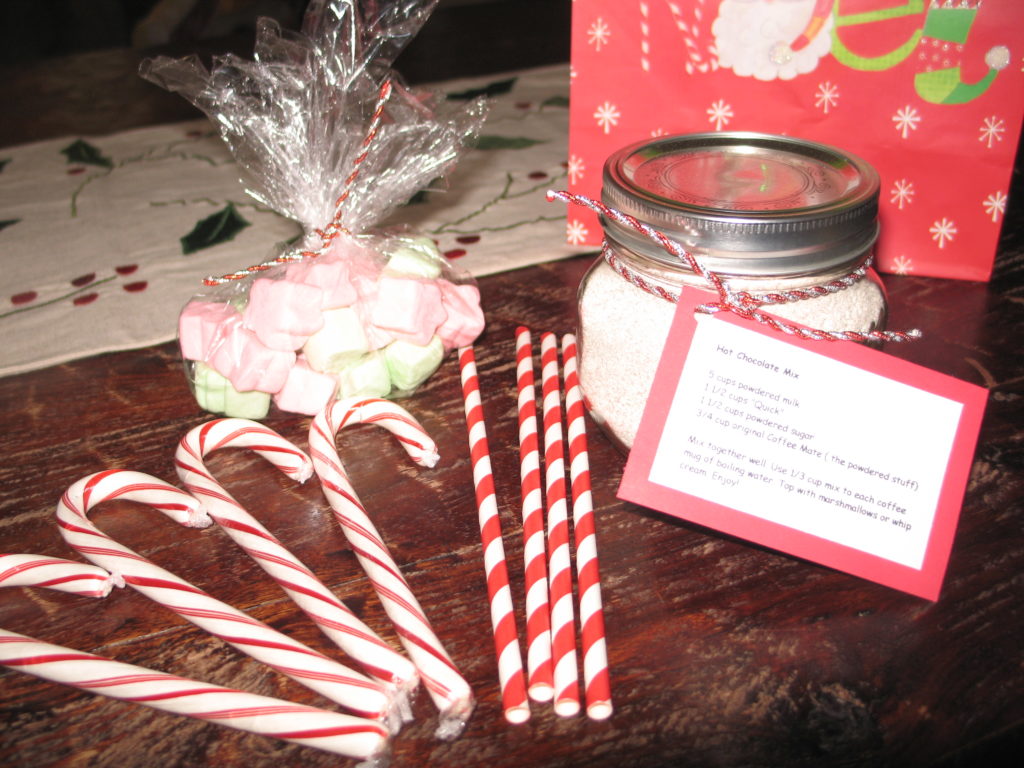 Homemade Hot Cocoa
Ingredients
5 cups powdered milk
1½ cups chocolate Nesquik
1½ cups powdered sugar
¾ cup original Coffee Mate (the powdered stuff)
Whip cream or marshmallows for topping
Instructions
Add powdered milk, Nesquik, powdered sugar, and coffee mate to a large bowl. Mix together well.
Boil water.
Add ⅓-1/2 cup cocoa mix to a coffee mug (*or more mix if using a really large mug).
Fill up coffee mug with boiling water and stir.
Top with whip cream or marshmallows.
Notes
*You can add a small piece of candy cane to your hot cocoa if you want more of a peppermint cocoa.