It's that time of year again when everything is ALL ABOUT THE PUMPKIN! I love it from the smells, to the recipes, and the decor. For years I used scented candles and air fresheners all over my home, and my philosophy was THE MORE THE BETTER!!!  I loved to just fully immerse my home in the smells of the season.  About 4 years ago I started on a natural product kick.  I started hearing how so many of the products I was using from personal care products to cleaning products were full of toxic junk.  So I slowly started switching everything out as I ran out of a certain product to work towards getting a more healthy home.  I learned how "fragrance" in any product was bad for us and it is a way for undisclosed chemicals to be hidden in our products.  During that time I also heard how candles and artificial scents from my air fresheners were not good to breath in.  At first I honestly did not want to listen or hear that.  Probably sat on that information for another year or so.  I mean I just LOVED my scented candles over here!  Makes sense though….that the fragrance in my candles would be just as bad as they were in my former laundry detergent or lotions.  So I reluctantly (at first) chose to give those up for the health of my family.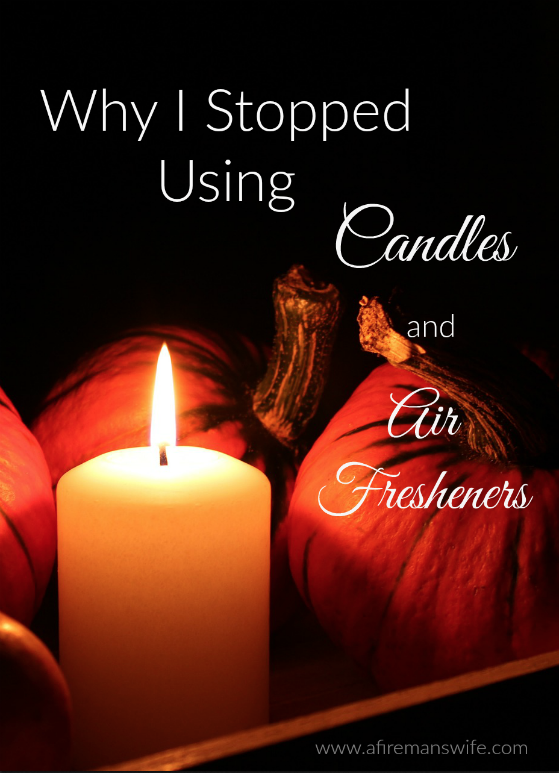 So paraffin is the major ingredient in most conventional candles and is a sludge waste product from the petroleum industry. It releases carcinogenic chemicals when burned and can increase the risk of cancer. Wax melts also contain artificial fragrance. The soot/fumes are similar to that released from a diesel engine and can be as dangerous as second-hand cigarette smoke.  Yuck!   Two particularly toxic chemicals, benzene and toluene, are found in the sooty residue from burning candles. Benzene is cancer-causing and toluene affects the central nervous system.
A Healthy Alternative
So after being a candle and air freshener free home for about 2 years now I am so excited that I have finally found a healthy alternative!  I don't know about you but along with all my holiday decor I still love having all those amazing smells in my home.  Rather than lighting a candle or spraying something harmful, we have been firing up our essential oil diffusers this fall. If you're not familiar with diffusers, they are a simple way to get essential oils into the air of your home.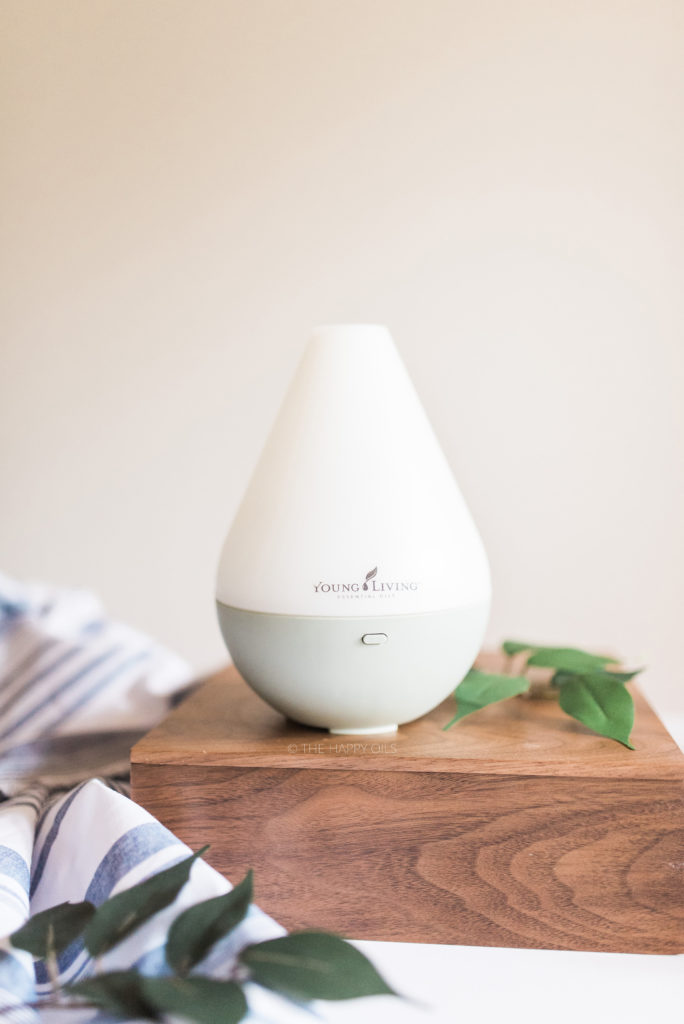 My Young Living Dewdrop diffuser (pictured above) functions as a humidifier, atomizer, and aroma diffuser in one!  I love how it acts as a humidifier especially during the dry fall/winter months.  Now I can make my home smell all yummy and fresh the natural non-toxic way.  And not only does it smell good you are getting all the amazing benefits of essential oils.  Not sure how good essential oils are for you??  It is totally worth looking up.  Dr. Axe also has some great resources that you can check out.  He is not associate with Young Living in any way but he has some great info on the benefits of essential oils.
Favorite Scents
Here are some of my favorite scents and blends that can take you all the way through the holiday season.
Pumpkin Spice- 3 drops Cinnamon Bark, 3 Clove, 2 Nutmeg, 2 Orange, 1 Ginger
Snickerdoodle- 3 Stress Away, 2 Cinnamon, 1 Nutmeg (and this totally smells like snickerdoodles are cooking in your oven)
Pumpkin Pie- 5 Cinnamon Bark, 1 Clove, 1 Nutmeg
Thanksgiving Blend- 4 Christmas Spirit, 3 Clove, 2 Lemon
Apple Pie Spice- 3 Stress Away, 2 Thieves, 2 Lemon
These don't have names but are still favorite blends right now:
3 Stress Away, 2 Thieves, 2 Orange
2 Thieves, 2 Orange
2 Thieves, 2 Peppermint
3 Thieves, 2 Lemon, 1 Frankincense (great to help boost immunity)
It is so fun to experiment with different oils and scents to freshen our home. If you would like to try using essential oils instead of synthetic fragrances, this is a great time to make the switch!  If you don't yet have essential oils, I would love to help you get started with them. They have made such an impact on our family's wellness, and I want each of you to have that same experience!
Here is how you can get started:
Click here to start the sign-up process.  Make sure you choose the "member" option so you can get your own account and get the 24% discount.  You should see my member number (12404102) in the Enroller and Sponsor boxes.  This will make sure that we are linked and I can give you support on how to use your new oils and get you connected with all of my teams amazing resources.  Next you will choose your starter kit and I HIGHLY recommend the Premium Starter Kit for $160 plus tax and shipping.  This kit comes with 11 of our most popular oils to get you started and also a diffuser.  My favorite diffuser is the Dewdrop Diffuser because it doubles as a humidifier.   Next there is an optional subscription box called Essential Rewards (ER). This is essentially like a loyalty program. I love it so much so I want to mention it right away! By ordering monthly on ER, you earn a percentage of points back to grab your choice of free products. For me, once I dove into oils I realized this was a lifestyle I wanted to pursue, so our family could live a more toxin-free life filled with products that help us without inadvertently harming us. It was the easiest choice I could make to start ordering them regularly! 

If this resonates with you and you want to start ER right now, you can! Rest easy: it's totally free and easy to cancel if you ever need to. But the best news is that you can grab whatever you want AND your Starter Kit also contributes on your first ER order and you immediately start earning points back!

  You can also totally skip this option right now and add ER later if you want!  Then you will fill out all your information.  Make sure you keep your username, password, and PIN so you can use them for future orders.  Then check out and wait for your box of oils to arrive!
If you have questions, feel free to send them to me. You can also check out my Essential Oils information page for some general information and also learn why I chose Young Living over all the other brands of essential oils.
I hope you will consider switching from candles and other artificial fragrances to using essential oils and reaping the benefits in your home!
(This post contains affiliate links.  Thanks for your support!!)