This post contains affiliate links.  Thanks for your support!
I hope you are all having a great week!  Here is the outfit that I put together for church last Sunday.  I actually kind of just ended up with this skirt but it turned out to be a great find!  And I love the look of the pink and gray together!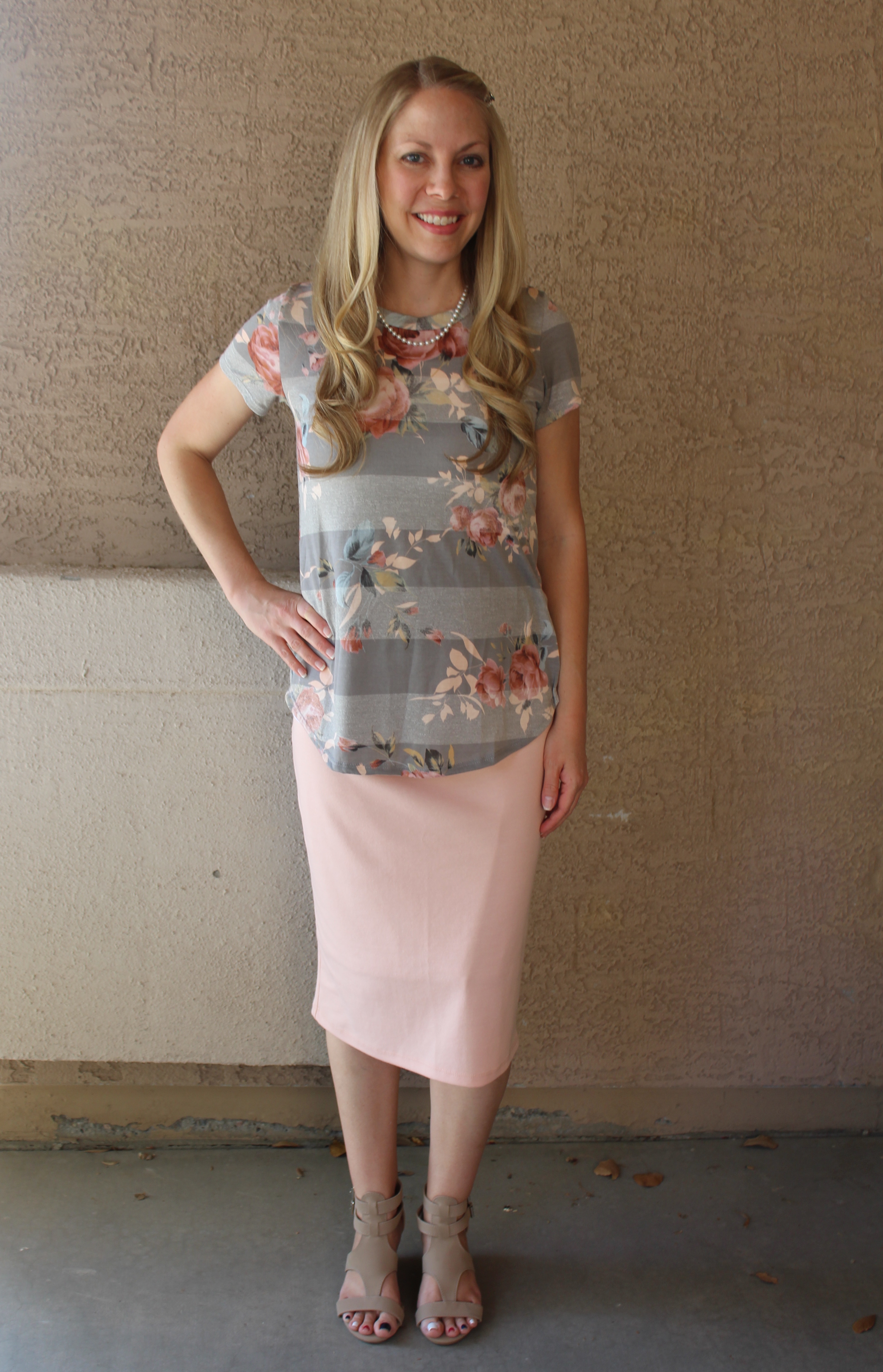 At first this skirt was a beautiful print with blues, aqua green, and purple from The Klassy Girl Boutique.  After receiving it I was so sad when I tried it on and it fit huge!  I thought it might have been mis-marked because I had ordered another skirt from them in the same size and that one fit great.  I contacted the company and it turns out that the manufacturer decided to up the hip sizes of all the new skirts coming in by 2 inches.  Whaaat??  So unfortunately their was nothing I or the company could do.  Why the manufacturer would want to do this is beyond me because I am sure I am not the only one that would no longer be able to buy their skirts??  So I asked the company if they had any skirts left with the old sizing in my size.  She said they had one left in blush pink so that is what I got!  Being a light pink color I did feel that I needed to wear a slip underneath.  If you are looking for longer pencil skirts they have a great selection!  Just make sure you look at all the measurements for the sizing.  They do have some youth sizes and I found out that a youth large was the same size as what I would need.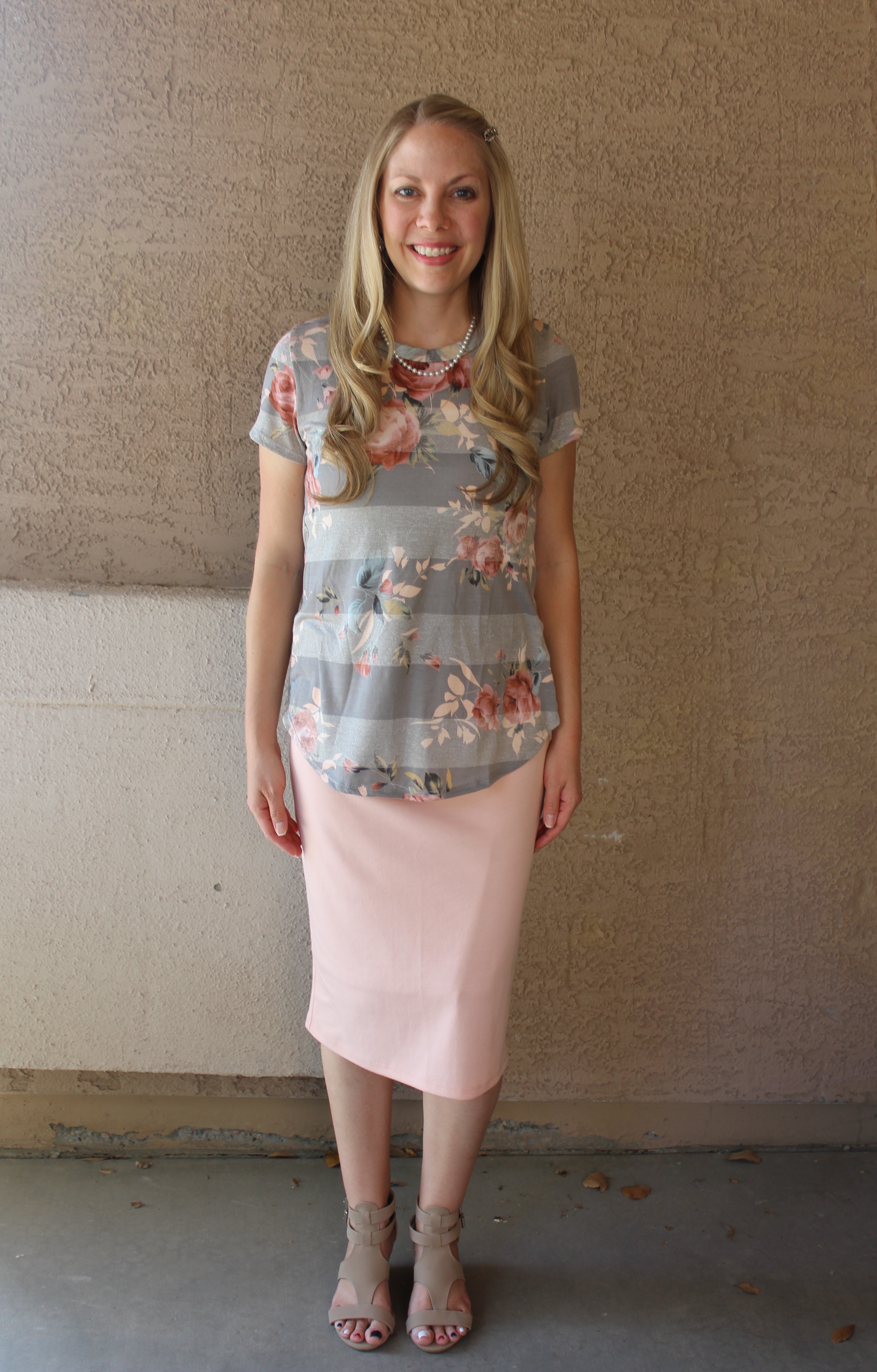 I found my shirt on jane.com.  I was excited when I received it and it was a perfect match for the skirt!  If you have never shopped at jane.com they are an amazing site that features fashion and home decor.  All the sales only last for 2-3 days and they have a limited quantity in each size and color.  So if you like something you have to grab it quick before it sells out or goes away.  I have noticed that sometimes things will come back though.  I remember once seeing a few skirts that I loved only to go back to order and they were gone.  I was bummed but then about a month later the same skirts showed up again.  That time I grabbed them right away!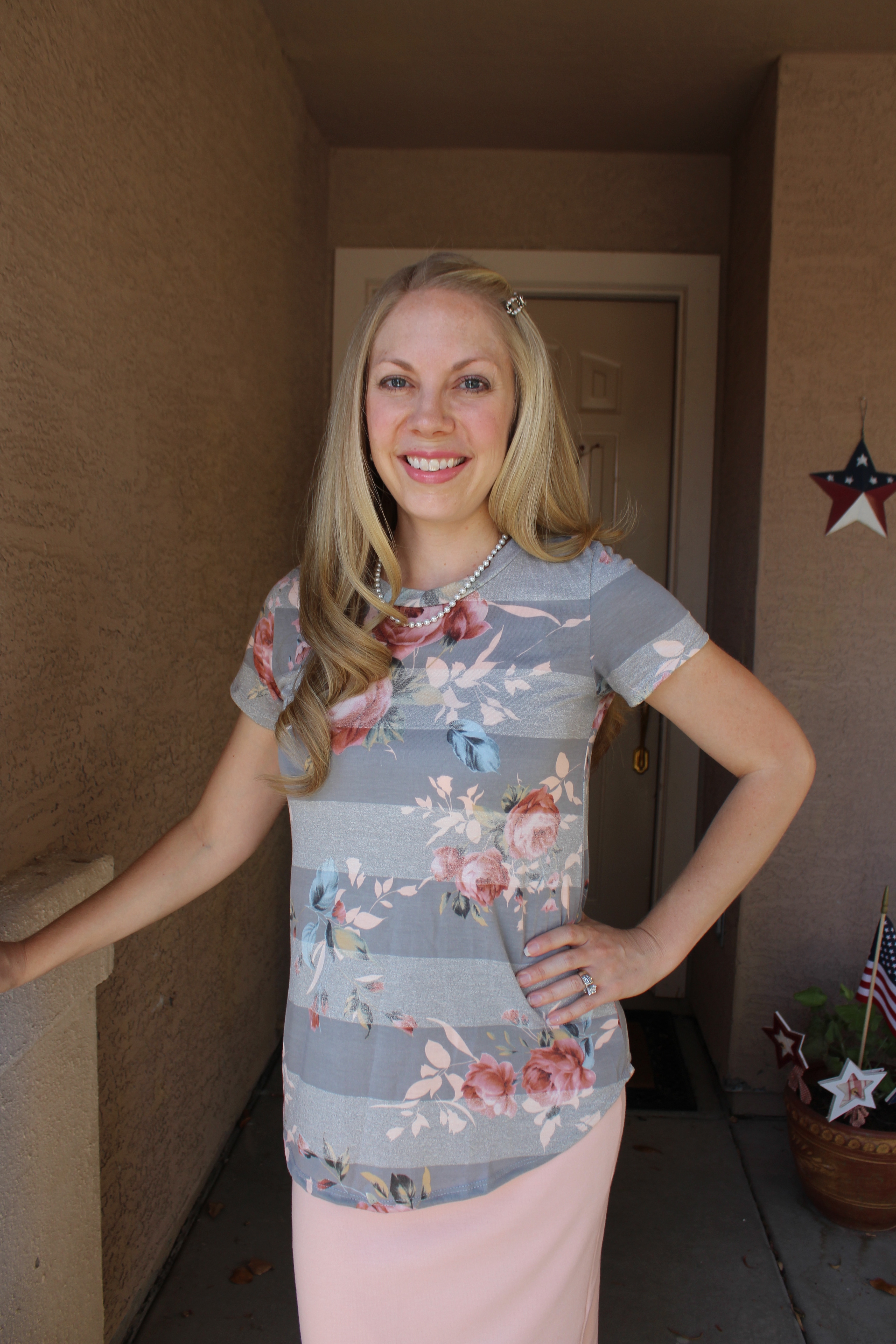 I thought pearls would add a nice touch to this outfit.  I twisted my hair back on the side and secured it with a mini Tree of Life flexi.  My necklace is a pearl hairband that I converted to a necklace with the magnetic clasp add-on.  I think that is a great way to get some nice looking inexpensive pearls!
I had to crouch way down so my daughter could see the top of my head.  🙂  She does such a great job helping me take my pictures every week.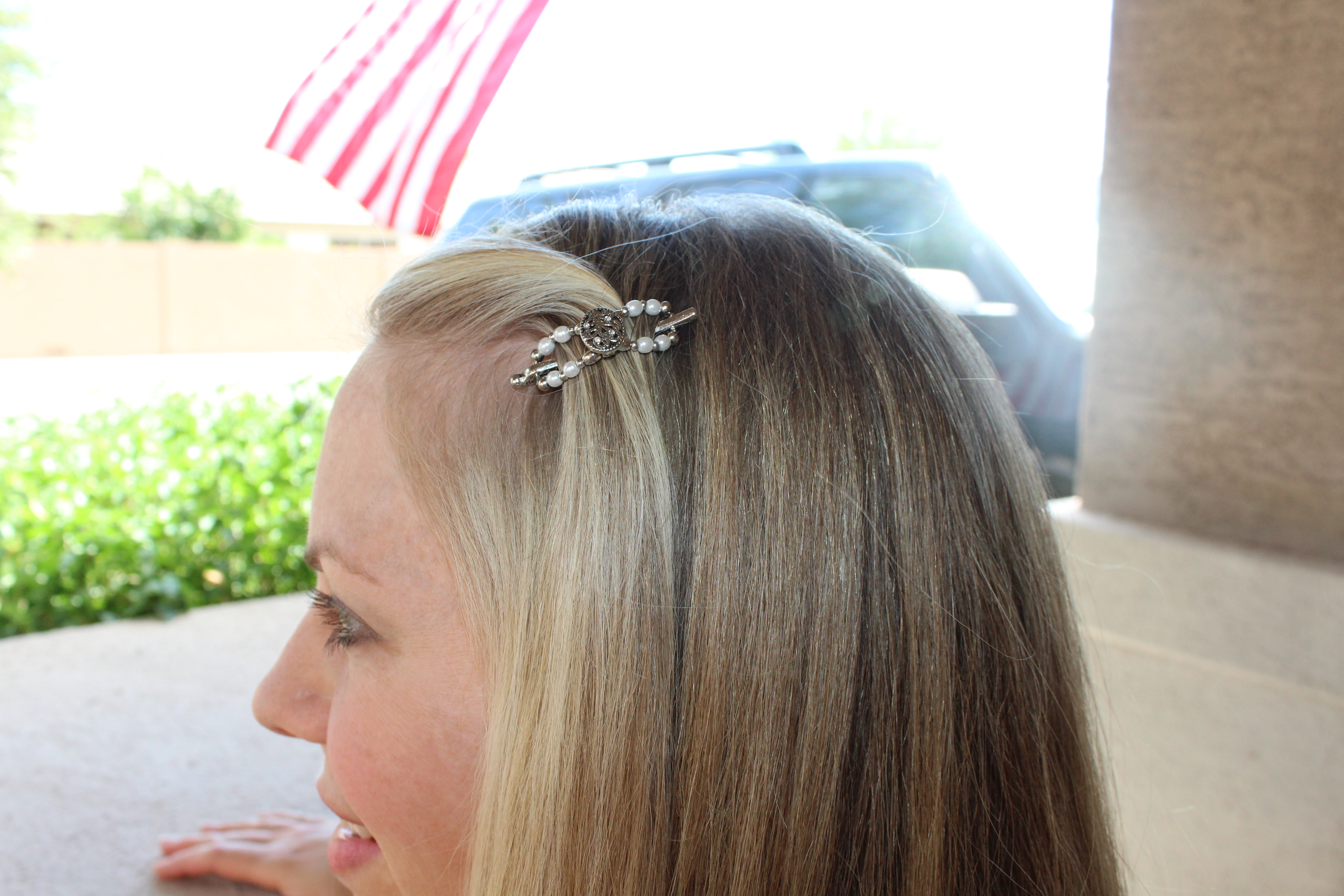 I really like these shoes as 1.) the color goes with everything and 2.) they have a small heal that can dress things up a little but low enough that they are still super comfortable.  I also found these at jane.com.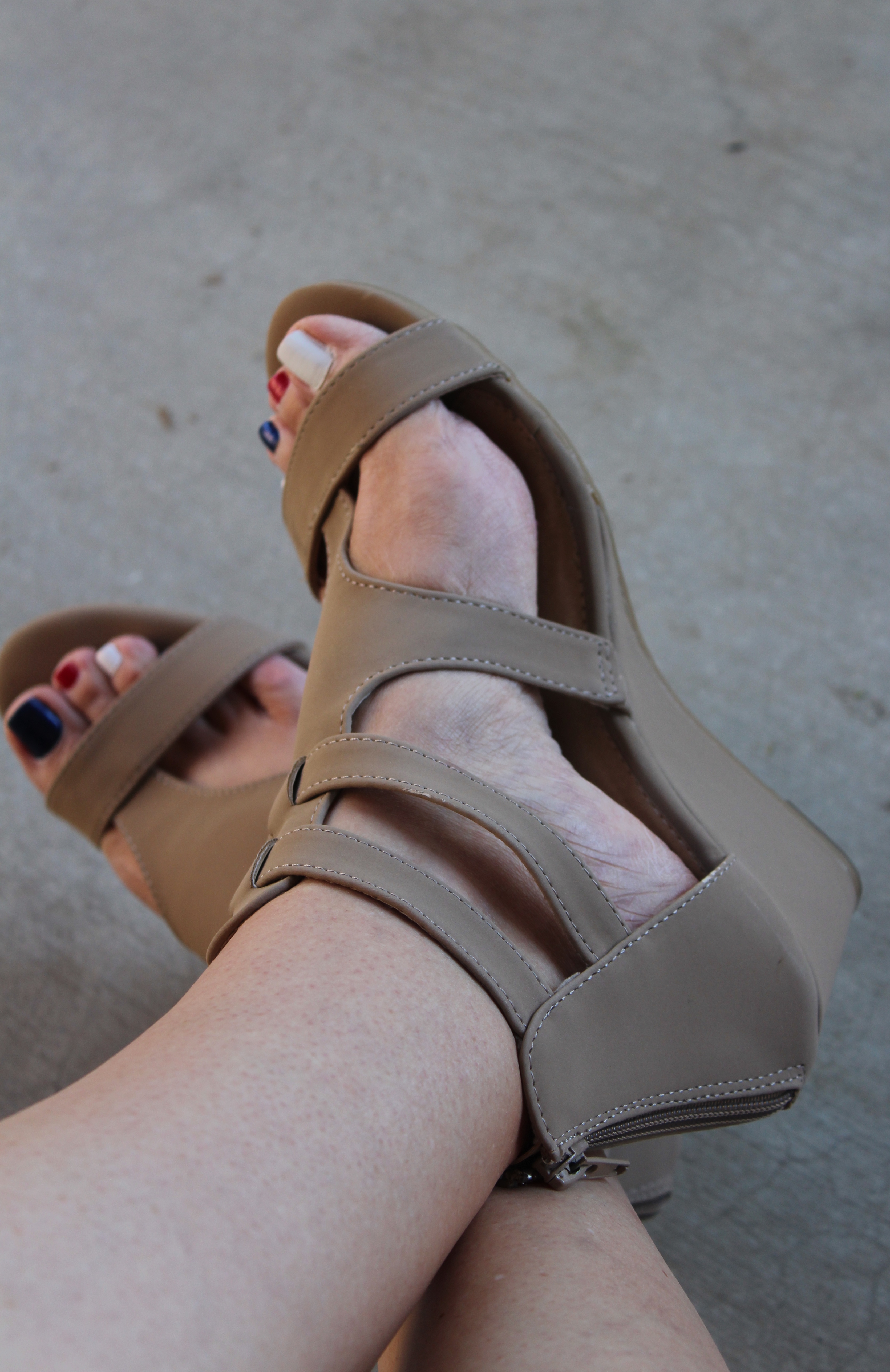 I would love if you would join my Friday link-up party!
What I Wore
Shirt- jane.com
Skirt- The Klassy Girl Boutique
Slip- Amazon
Shoes- jane.com
Flexi clip and hairband/necklace- Lilla Rose