With Super Bowl coming up this Sunday I thought I would share a few simple ideas to add some extra fun to your party!  I also have an Oven Melted Hammie Sammie recipe that I want to share that has been a huge hit at every party I have made them for.  The kind of recipe that your guests want when they leave!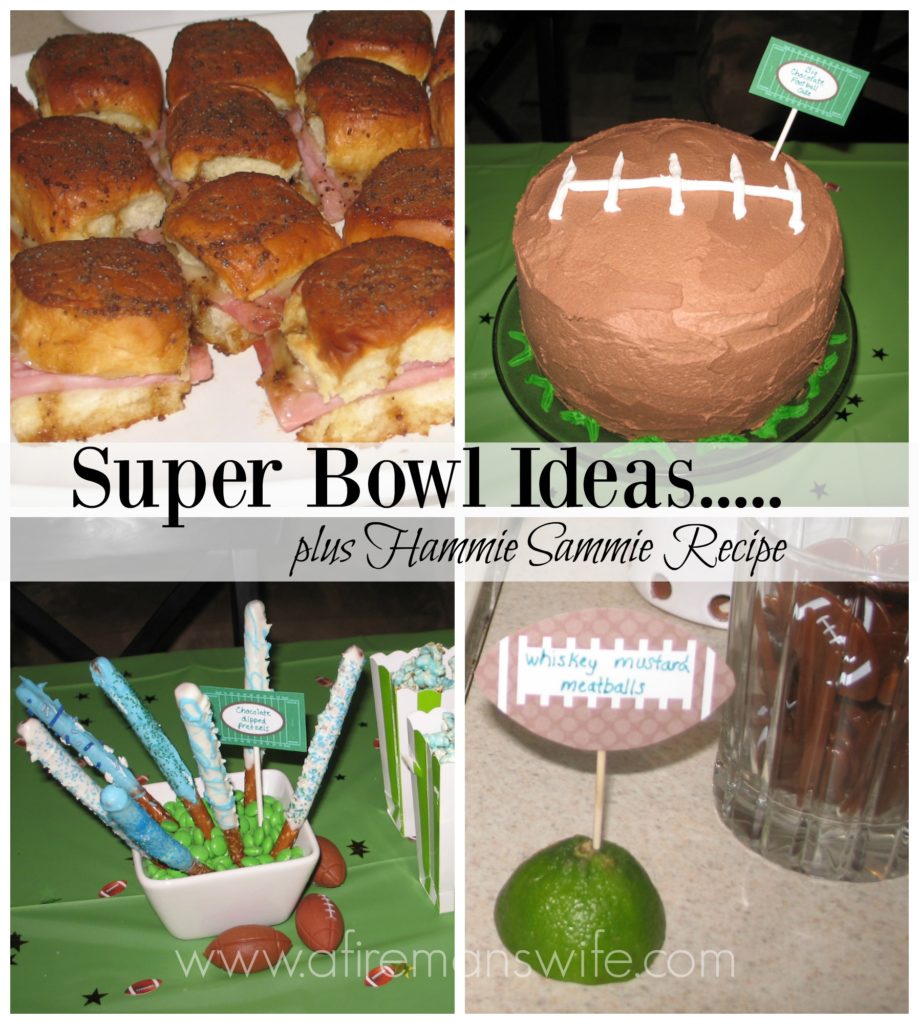 Simple Decorations From the Party Store-  So easy and inexpensive.  I picked up a green plastic table cloth, (love these at parties so I can just throw them away when we are done), so it could be my "football field" on the table.  You could also go with a table cloth for the color of the team you are rooting for.  I grabbed some cute little football confetti and stars to add to the table, and also the little footballs.  The year I took these pictures our team colors were green and blue so I also grabbed some green chocolate candies to use as holders for my chocolate dipped pretzels, and green and white striped popcorn holders to put my blue popcorn in.  Plates and cups also add a fun touch.  I went with Super Bowl plates and napkins that year but also doing team colors can be fun!  I did that with my cups by alternating the colors blue and green.  I love when I have a color theme for parties, it is so fun to go all out with those colors….even with your drinks!
White Chocolate Dipped Pretzel Rods and Colored Candy Popcorn- These chocolate dipped pretzel rods are so fun to have out at parties.  You just need a pack of Pretzel Rods (I use the Kroger brand and those work well),  a pack of white chocolate chips or white chocolate melts, and 1-2 Tablespoons vegetable oil.  Pour your chocolates into a microwave safe bowl, add your vegetable oil and stir it up.  Microwave at 50% power stirring every 30 seconds.  Don't overheat!  Then I dipped the pretzels right in the bowl one at a time about 1/2-2/3 of the way up.  You don't want to put the chocolate on too thick so after dipping allow the excess to drip off back in the bowl or you can gently roll the pretzel rod between your hands to spin the excess chocolate off.  When I got all the white pretzels I wanted I added a little blue food coloring to the chocolate so I could dip a few blue pretzels.  I also took some of the blue chocolate and drizzled it on some of the white pretzels.  Then I added some sprinkles in the team colors.  I let them all dry on a cooling rack with wax paper underneath to catch any drips.I used this Colored Candy Popcorn recipe from Our Best Bites.  It is fun because you can change the color of the popcorn depending on your color scheme.  
Big Chocolate Football Cake for Dessert-  Being the Super Bowl I thought a big football cake would be cute!  This is super simple because you can use any cake really and just decorate it with chocolate frosting.  I then added the football laces on top with white frosting and some green frosting around the bottom for the grass. 
Food Labels and Signs: I found these cute little printable football labels and signs here and here!  For the football labels I just cut them out and attached them to toothpicks. Then I cut a lime in half and stuck the toothpick in the lime.  For the football field labels I attached them to lollipop sticks.
For a great sandwich to serve your guests on Super Bowl, or any get together, try these Oven Melted Hammie Sammies!  A friend gave me this recipe years ago and they became a family favorite!  I am not even a huge fan of Swiss cheese, I don't like it by itself, but all melted in the sandwich it is so yummy!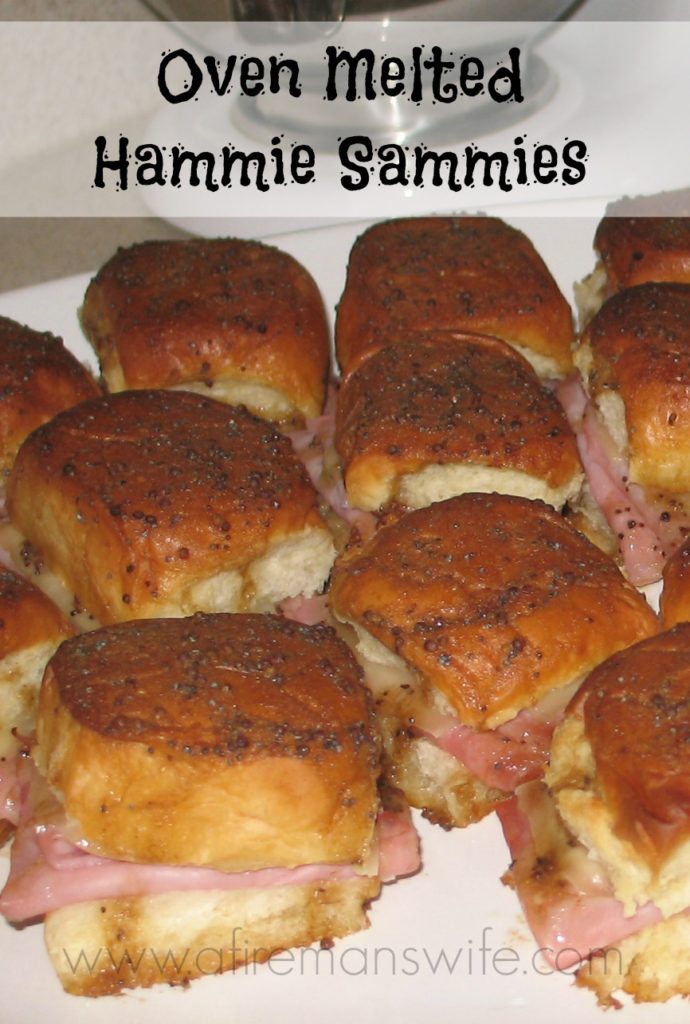 Oven Melted Hammie Sammies
Ingredients
1 12-count package Kings Hawaiian Rolls
12 slices swiss cheese
1 pound thinly sliced deli ham
½ cup melted butter
2 teaspoons stone ground mustard ( I use Inglehoffer brand)
1 teaspoon poppy seeds
1½ teaspoons onion powder
2 tablespoons worcestershire sauce
Instructions
Slice all your rolls in half and set aside the top half of the roll.
Place the 12 bottom halves of the rolls about 1-2 inches apart on a cookie sheet.
Evenly place your ham slices on the bottom halves of all 12 rolls. I fold up the ham so it fits nicely on the roll.
Add your cheese on top of the ham. I kind of break up my cheese so it fits better on the small roll.
Place the top half of the roll back on the sandwich.
Mix together the melted butter, stone ground mustard, poppy seeds, onion powder, and worcestershire sauce in a small bowl.
Spoon all your sauce evenly amongst the tops of all 12 sandwiches. Just dump it all on and let it ooze down all the sides.
Let them sit at least an hour, or up to overnight, in the refrigerator.
When you are ready eat bake them in a preheated oven at 350 degrees for about 15 min or until warmed through and the cheese is gooey and melty.
Notes
These are great for any party or get together and you can make them the night before or earlier in the day. I often double or triple this recipe because they go so fast!