This morning my husband came home from work and said that at his fire station they are all doing a diet bet, on all three shifts, in honor of the new year.  They are having a contest until March 1 to see who can lose the most body fat.  I personally am not usually one to make resolutions, because to be honest I have a hard time keeping them.  But with a new year, it is a fresh start, so for me it is always a good time to think about what maybe wasn't working at the end of the year and focus in on what I would like to see change.  For me one of my biggest is getting to bed on time.  I am a night owl by nature, and after having 4 kids I have gotten even worse.  I like having my time to get stuff done in the evening so I end up staying up WAY too late.  That makes it hard to get up on time with my schedule and run a school day.  I realize how important this is so I am really going to work on getting to bed earlier.  For my husband, now that he is part of a diet bet, I am really going to try to help him out at home in the food department.  It is no secret, I love food.  So does my husband.  We both love things that taste good, period.  With my last two babies I had some major diet restrictions when nursing.  I had to cut out dairy and soy with one, and dairy, soy, and gluten with the other and so many other random things for at least the first 6 months.  For both boys the dairy and soy part was for most the year, and I got to slowly bring back in other things.  Probably the hardest thing I ever had to do, for that long of a time period, for this dairy and dessert lovin' girl!  It did force our family to eat healthier though, which is a good thing!  So for old-time sake, and in honor of the diet bet, I made chicken and vegetables for dinner last night.  I will post my zucchini recipe at another time, but for now I will start with the chicken.  During my restricted nursing diet chicken, pork, turkey, and ham were always meats that the boys could tolerate.  Beef was part of the cow, and effected them the same as me eating dairy.  As I mentioned before I love food and flavor, so I did my best to still get some flavor even though I was very limited on what the boys could handle.  This basic recipe I originally got from my fireman as something they would do at the station sometimes.  It goes great for marinating chicken or pork chops and I probably overdid this during the boys' nursing years because the boys were actually fine with it.  I just went lighter on the seasonings during the first 6 months when they were really sensitive.  Sometimes for recipes that need cooked chicken added to it I will used this marinade on the chicken for extra flavor.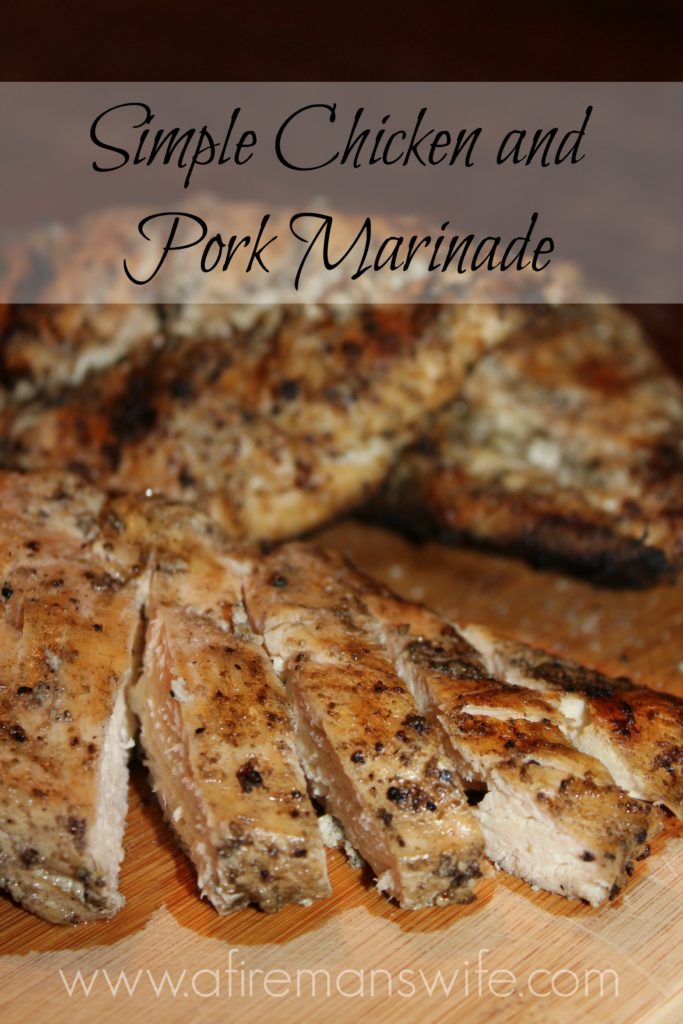 For this marinade I just use olive oil, garlic powder, garlic salt, onion powder, salt, pepper, and cayenne pepper.  Super simple but it adds good flavor that even the kids like and it is pretty healthy.  So to start thaw your chicken in a bowl of water in the sink if it is frozen.  I always get the big bags of frozen chicken from Costco so I just take out what I need when I need it.  After it is thawed cut off any fat if needed.  I find that when I buy the Costco brand of frozen chicken I hardly have any fat to cut off which is so nice.  Place your thawed chicken right in a gallon size ziplock bag.  For pork chops just thaw them out, rinse them off and then put them in the ziplock bag.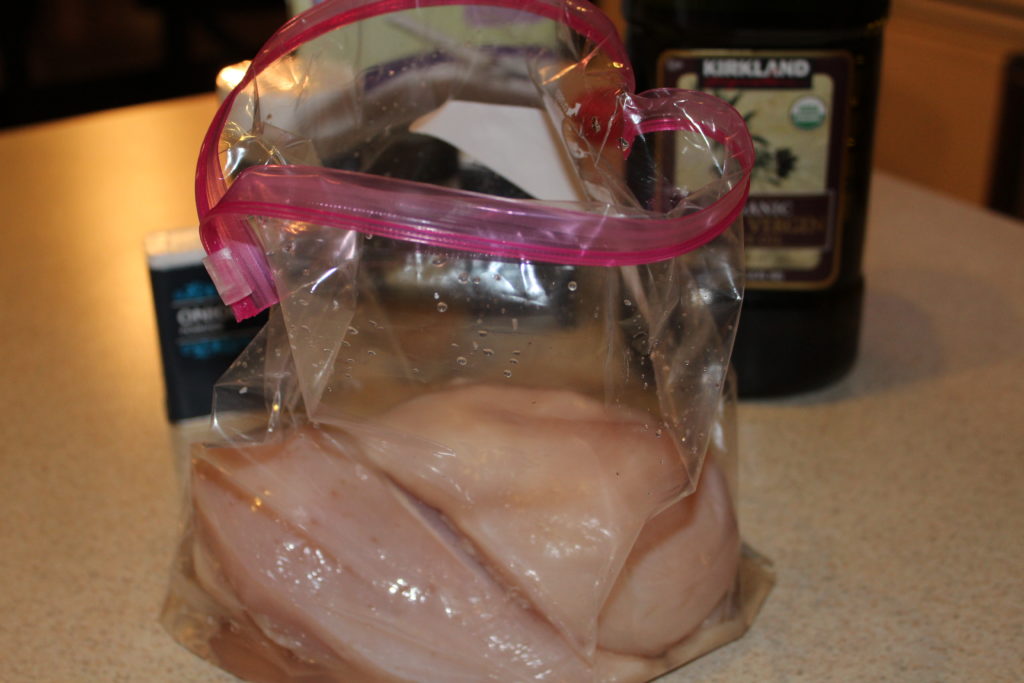 Now to be honest until today I never actually tried to measure out the ingredients for this.  I would just pour on some olive oil to coat the chicken and then dump in the seasonings.  Then I close the bag and get it all mixed up and add more seasonings if I think it needed it.  Today I ended up adding about a teaspoon of all the seasonings except the cayenne pepper.  That one I just did a small dash, or about 1/8 teaspoon, for flavor.  My younger 3 kids won't eat anything that is at all spicy.  I think then I added a few shakes more of garlic powder, onion powder, and pepper.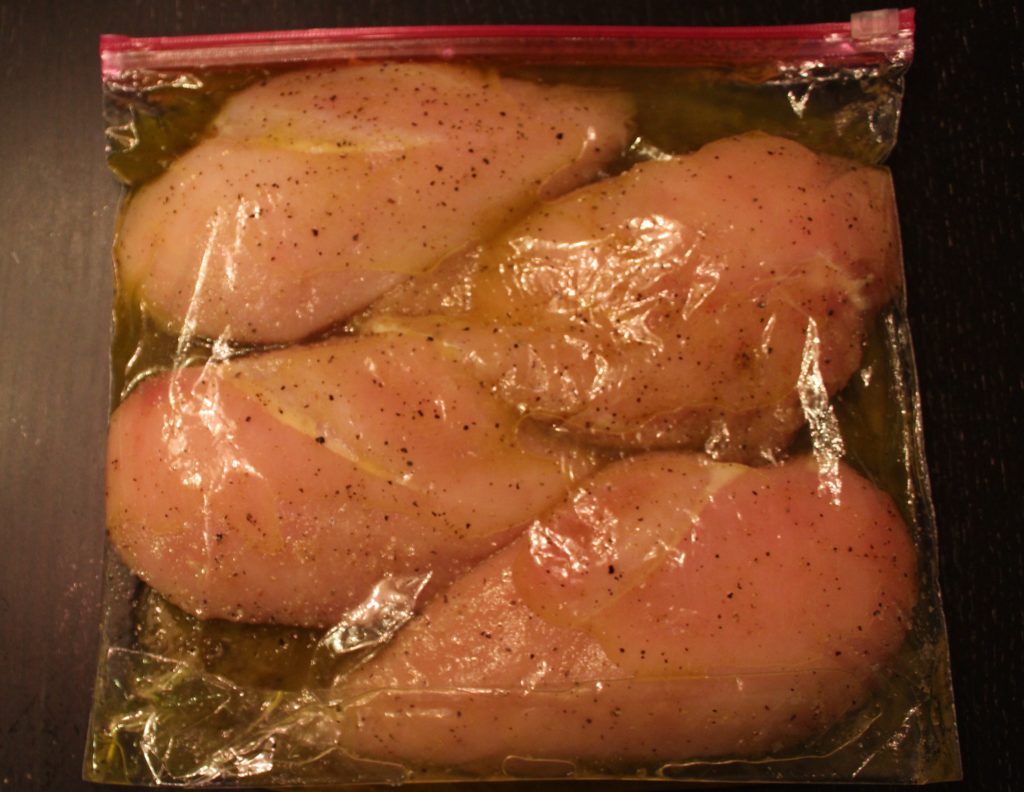 Once it looks like the picture above I will pop it in the fridge for about 10 min or until your are ready to cook it.  I have found it really doesn't need to marinate long.  Then if the fireman is home he will put the chicken on the grill, or if he is working I will usually just put them on the grill pan inside.  Whats nice about this is that you can adjust the seasonings to your liking.  If you make it once and you realize it wasn't right your can just add more or less of the seasonings next time.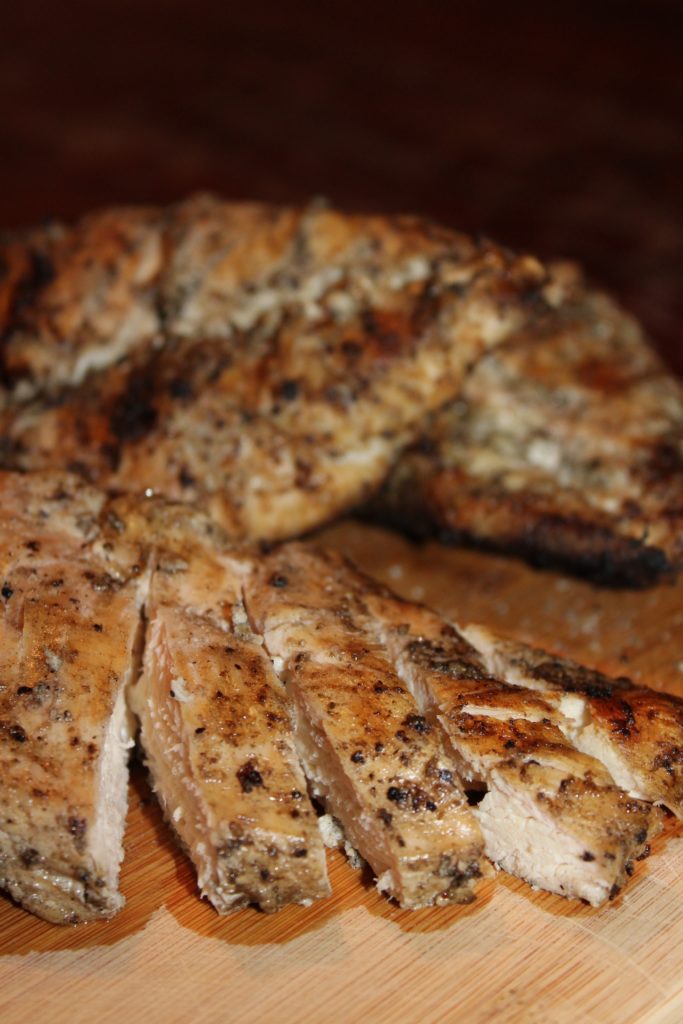 Simple Chicken and Pork Marinade
Ingredients
4-6 Chicken breasts or pork chops
½-1 cup olive oil (amount depends on the amount of meat)
1 - 1¼ teaspoons garlic powder
1 teaspoon garlic salt
1 - 1¼ teaspoons onion powder
1 teaspoon kosher salt
1 - 1¼ teaspoons coarse ground black pepper
⅛ teaspoon cayenne pepper
Instructions
Thaw your meat, trim off any fat if using chicken, and place in a gallon size ziplock bag.
Add your olive oil and seasonings to the bag.
Seal bag and mix around all the seasonings to coat the chicken.
Add any more olive oil or seasonings if needed
Seal bag and keep in the refrigerator for 10 min or until your are ready to cook.
Cook chicken or pork on the outside grill, or inside on the grill pan.
Notes
You can make this with any amount of chicken or pork chops. Just adjust the amount of olive oil or seasonings as needed.