This post contains affiliate links.
A few years back, when I was pregnant with my 3rd, I thought it would be fun to have some sort of game or trivia questions at our Thanksgiving table.  So I came up with Turkey Trivia!  This has been a fun addition to our table ever since!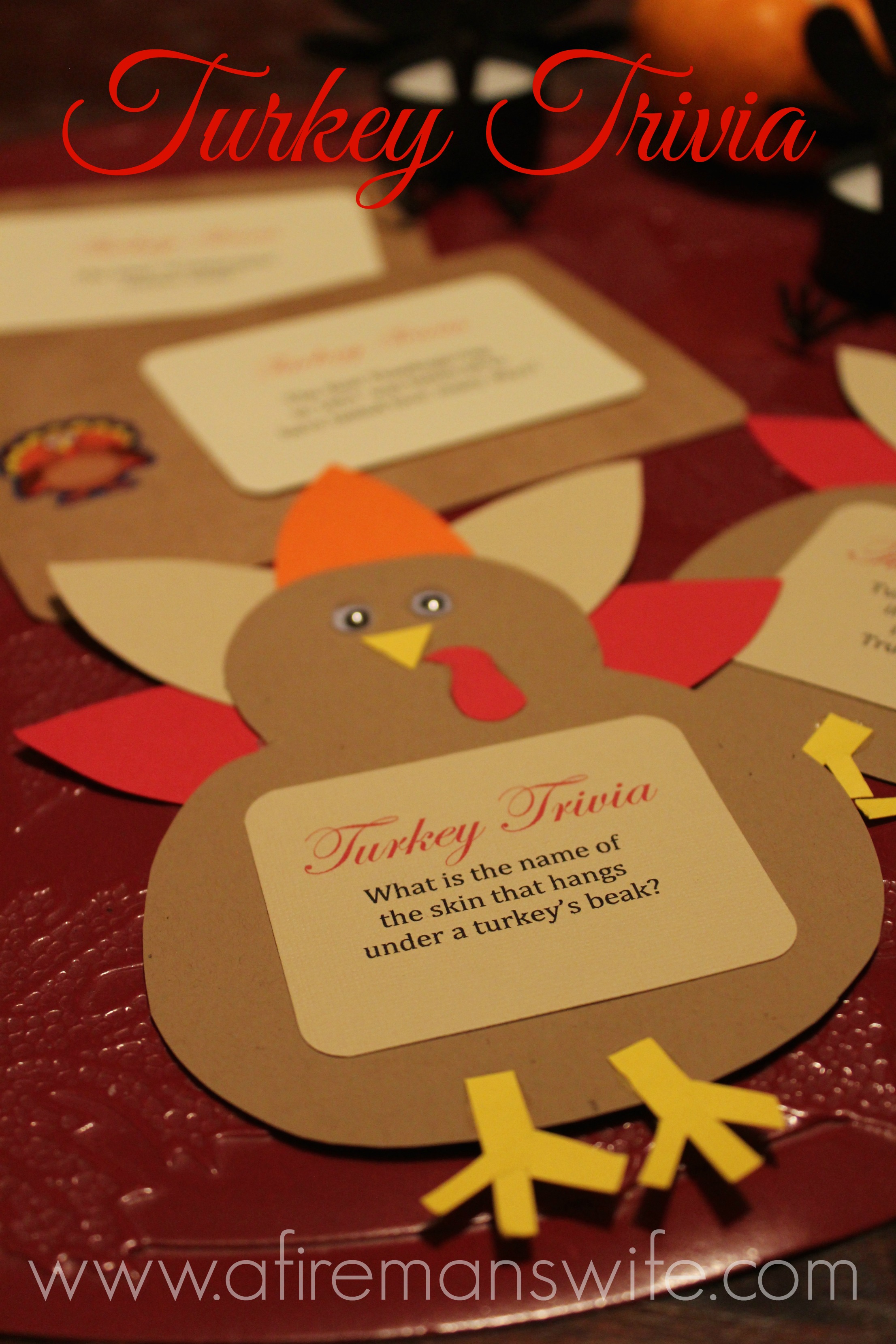 So I got busy crafting and I created my turkeys.  I drew out my turkey body template with pencil and once it was to my liking I cut that out and used it as a template for the others.  I did the same thing for my turkey feathers and the red wattle.  I drew one and used it as a template to cut out all the rest.  The yellow beaks I did simple triangles and the feet I just started cutting and hoped for the best!  I thought they would be kind of small to trace.  For the eyes I used googly eyes to give them some cute personality.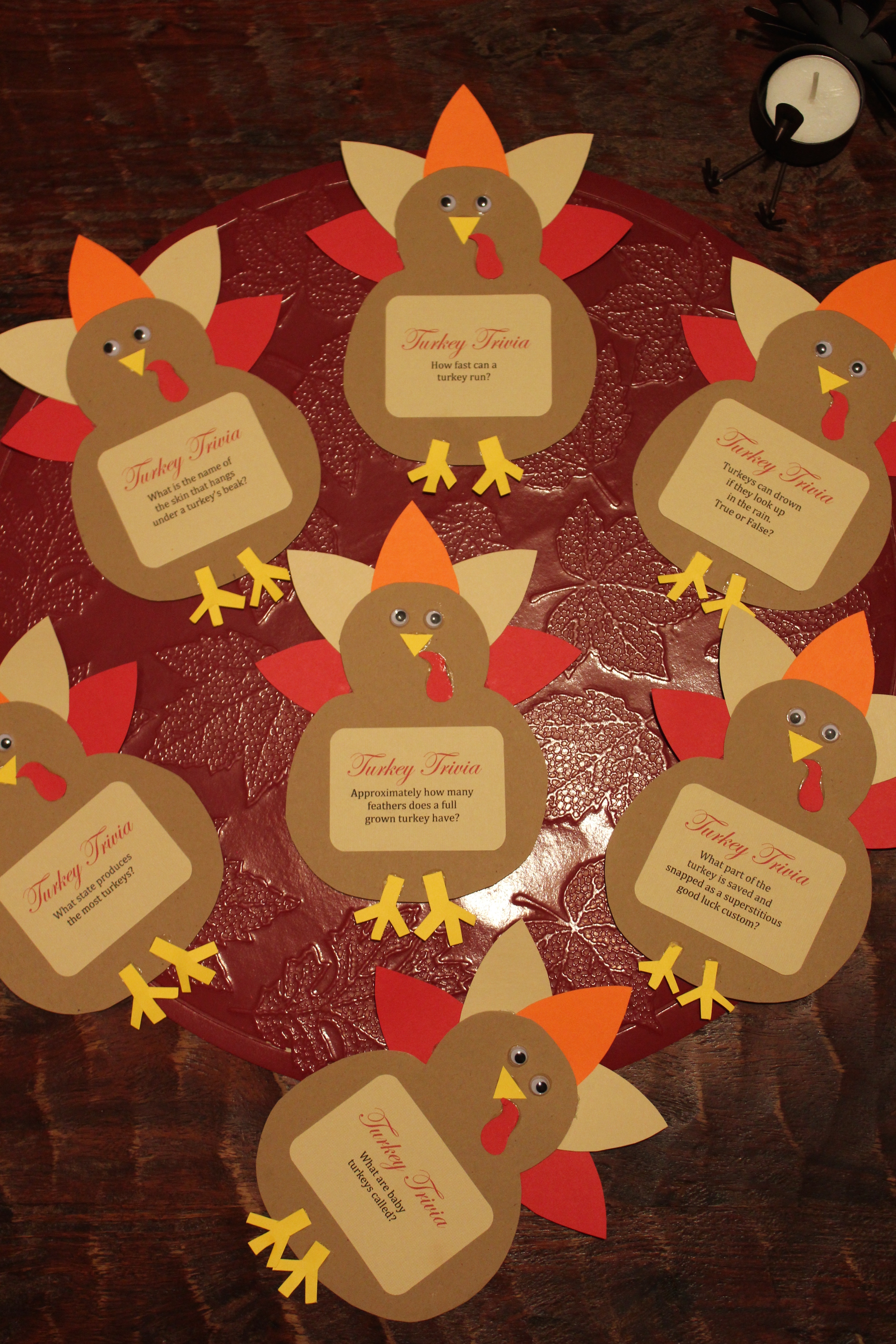 For the actual trivia questions part I turned to Google.  I ended up finding this site here that had all the work done for me.  Perfect!  With 100 Thanksgiving related questions to choose from you should be able to find some that will work great for your group.   So then I went to my computer and used a fancy font to say "Turkey Trivia" in red.  They I typed out my question right below, and a few spaces down I typed the answer, which I cut out and attached to the back of my turkey.  I printed out my questions and answers on cream card stock.
Super fun and I love how they look all set up on the table!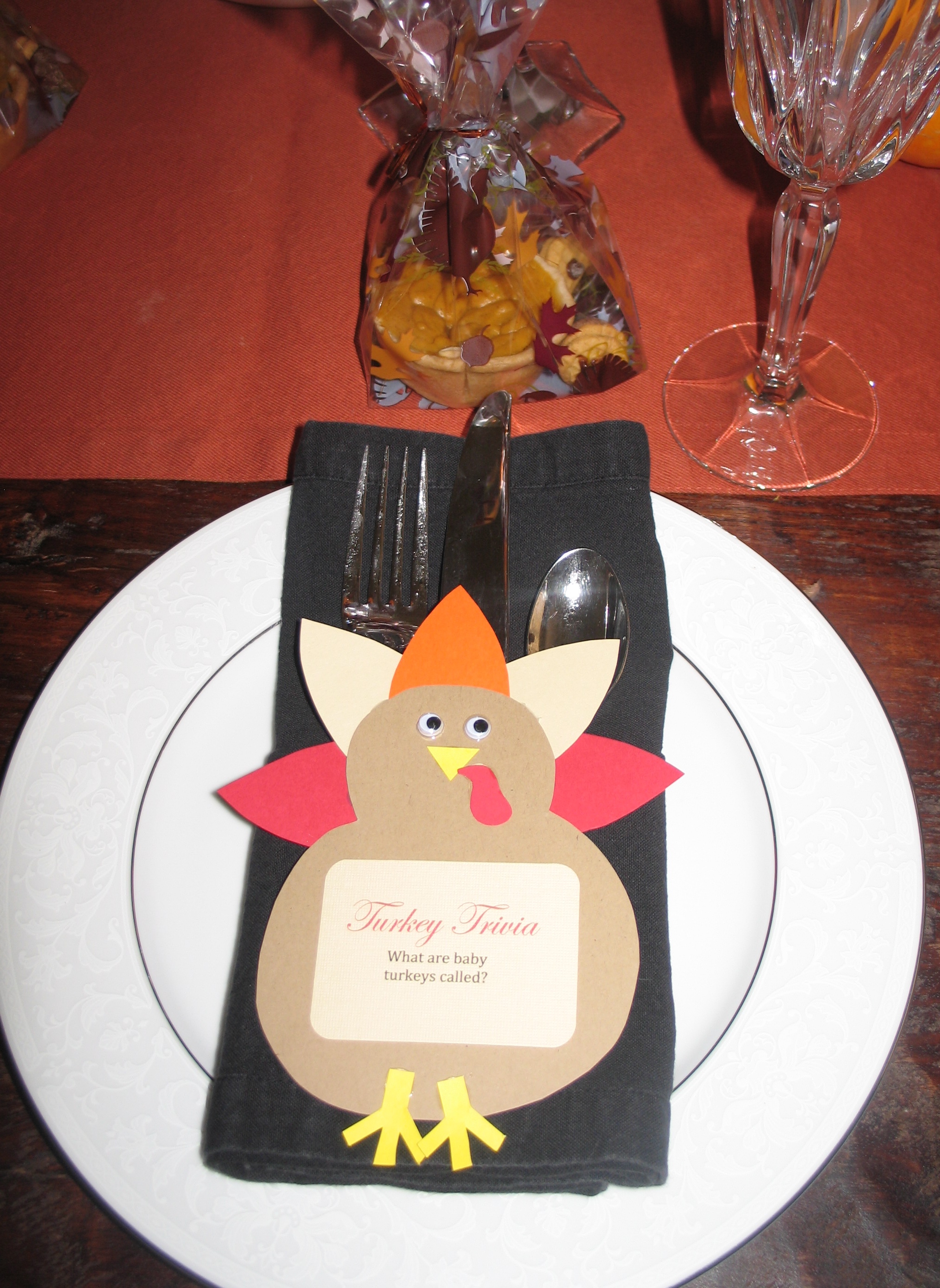 I had a turkey at everyone's place and we took turns going around the table asking our questions.
I think the first year I made these turkeys I had 7 to make.  Now depending on the size of your group, or if life is just too crazy, you might be saying "cute idea" but I don't have time to sit and make 15 turkeys!  I totally get that.  The me that made these almost 4 years ago had only two kids with my youngest being 3 1/2.  This year life is still crazy with four kids but I thought it would be fun to add some more trivia questions to our mix.  Not having the time to sit and make more turkeys I came up with a simpler version that can still be the hit of your Thanksgiving table!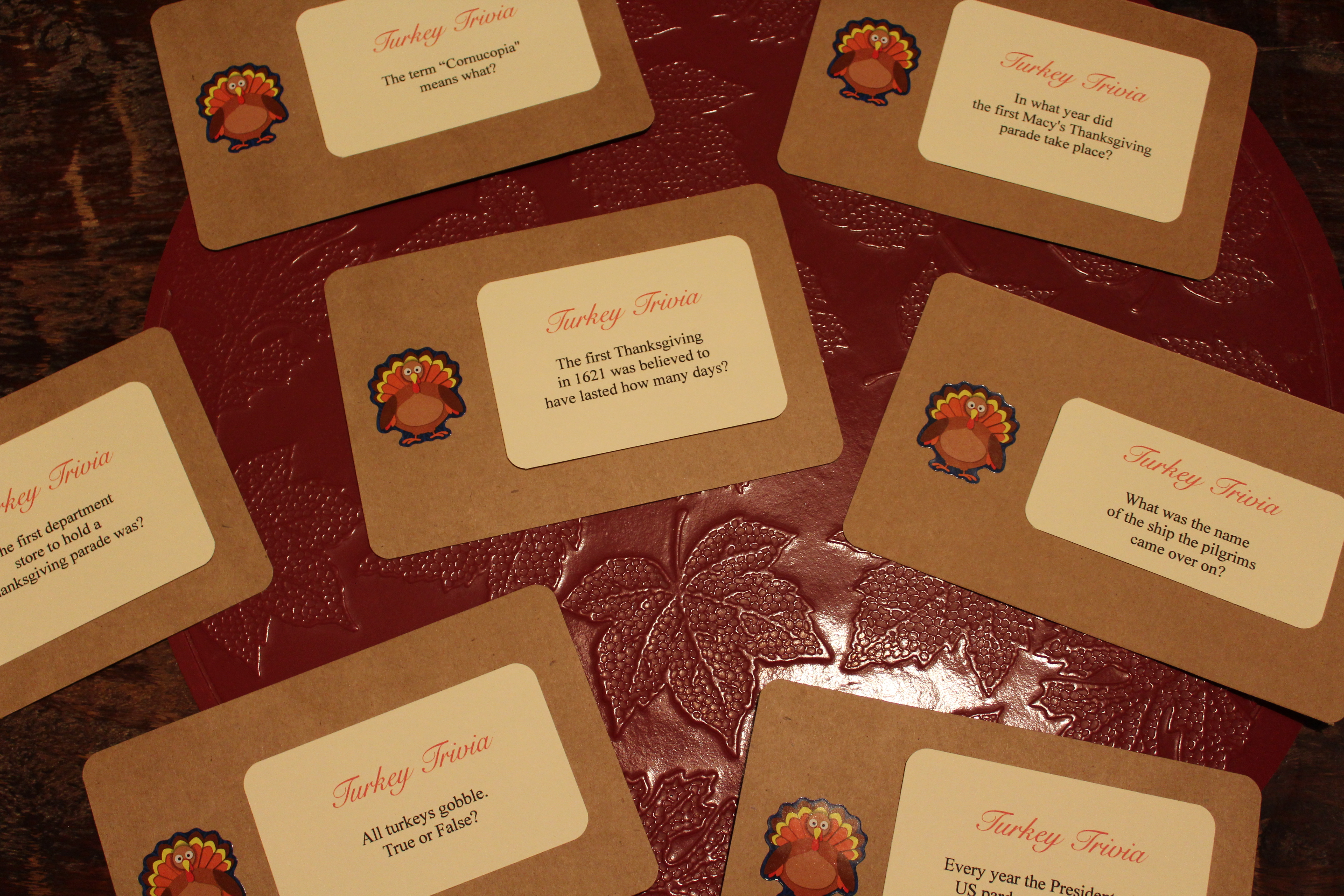 Same basic idea as the turkeys with the questions on the front and answers on the back, but I attached them to a simple card I cut out of brown card stock and added these cute turkey stickers that I found here.  I rounded the edges with a corner rounder to give it a clean look.  Way simpler then cutting out a bunch of turkeys!  The good news is that if you do invest the time into either of these you can reuse them year after year as is, or you can rotate the questions.  I glued the turkeys together but I just taped the questions on to both the cards and the turkeys so they can be changed out if needed.
Rounding the edges.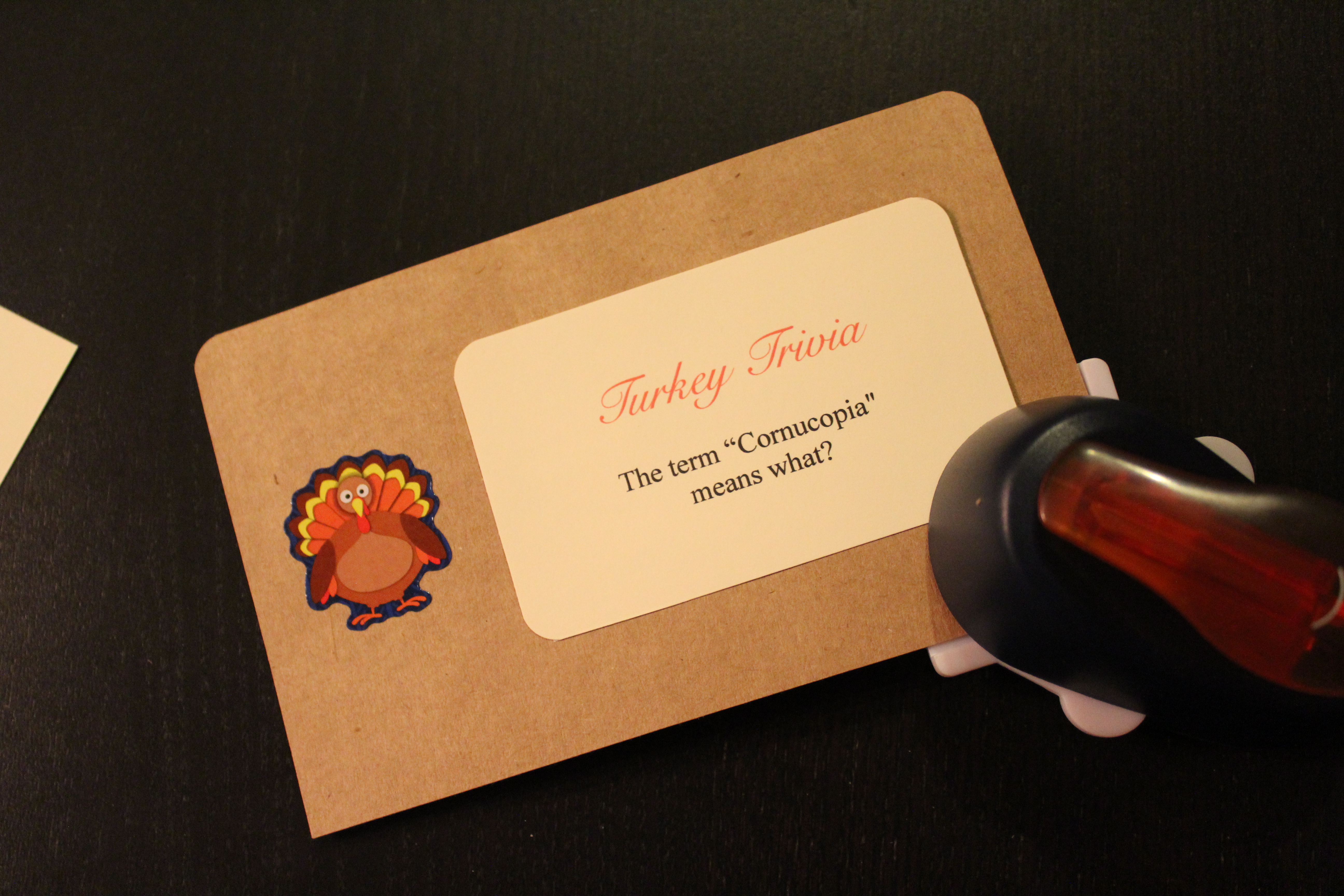 What the back with the answers looks like.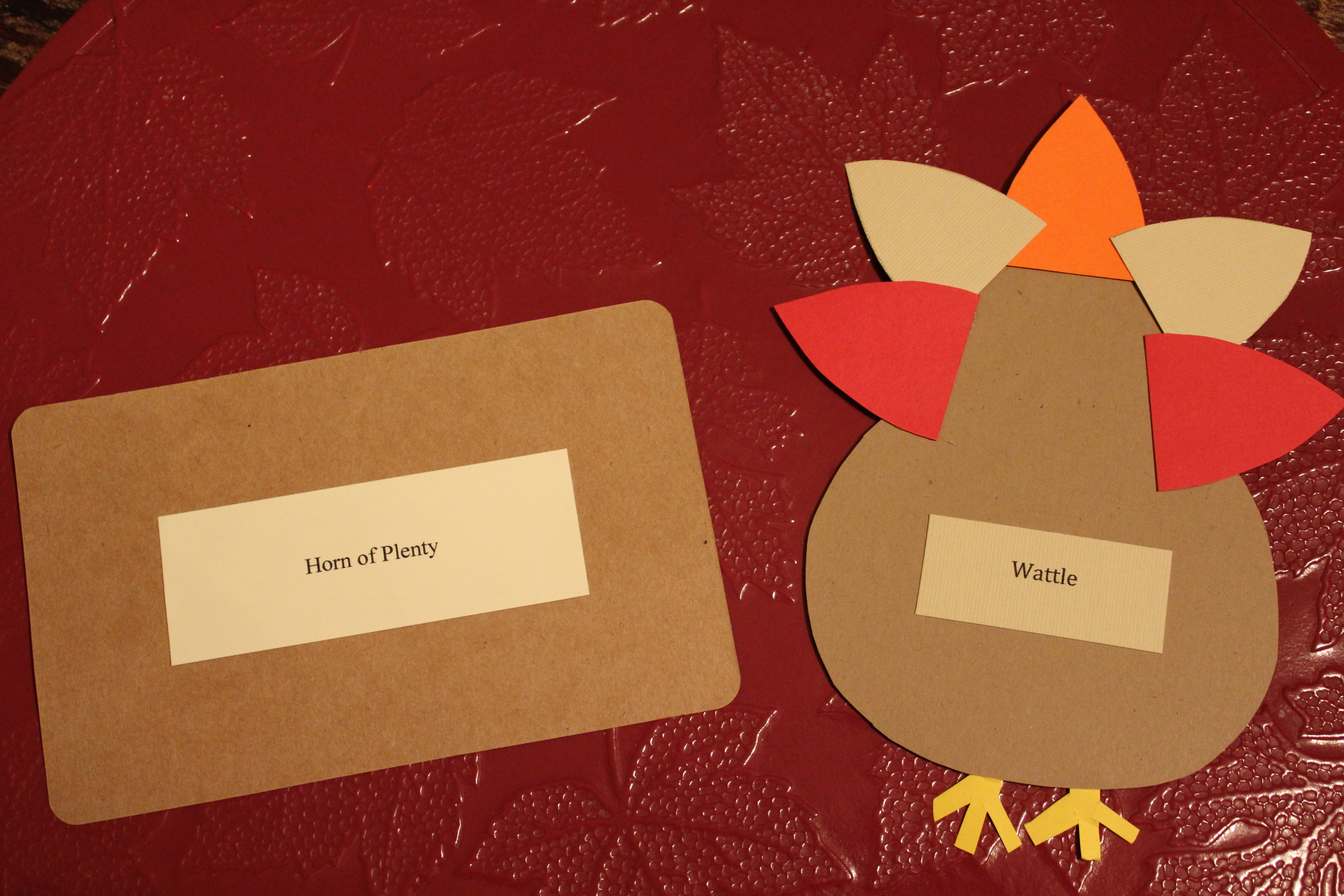 I hope you all have fun adding some "Turkey Trivia" to your Thanksgiving this year!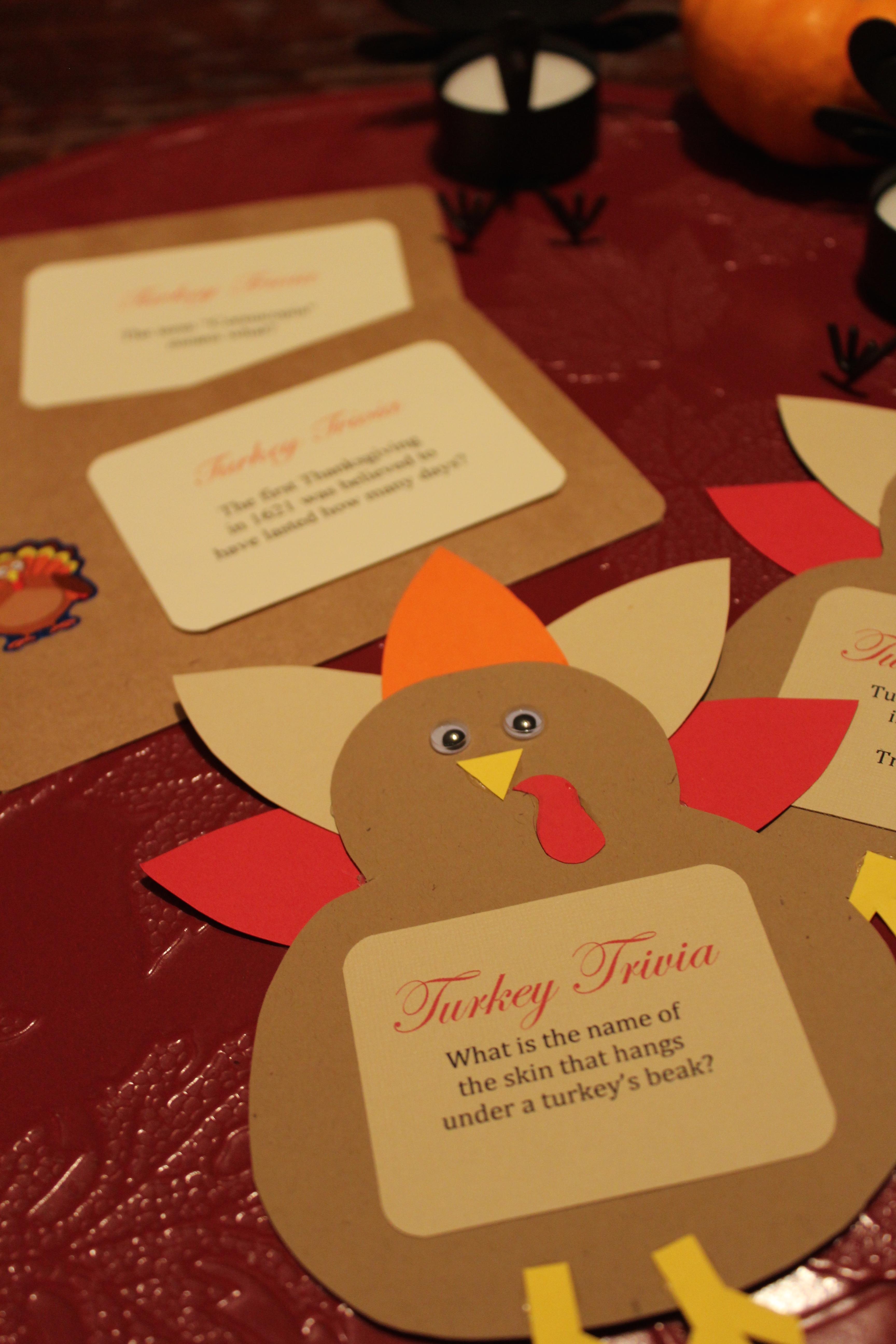 Disclosure: This post contains my affiliate links. Read my full disclosure here.