This post contains affiliate links.  Thanks for your support!
Okay so this has totally become one of my favorite DIY cleaners so I wanted to share!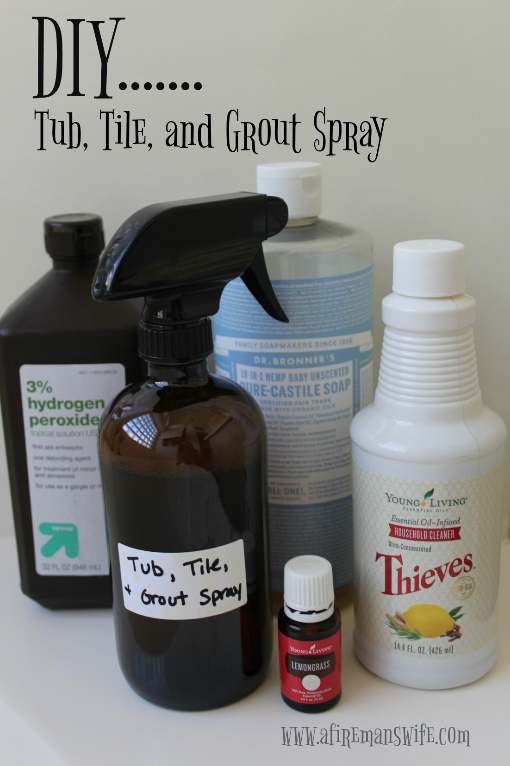 I am already such a huge fan of the basic Thieves Household Cleaner for an all-purpose cleaner.  1-2 capfuls in a 16 oz amber spray bottle and I can clean my entire house!  This is seriously the BEST cleaner out there!!  Not only does it smell amazing but it is safe and has no toxins, synthetics, or chemicals, etc. The bottle is super concentrated so it lasts me about 6 months!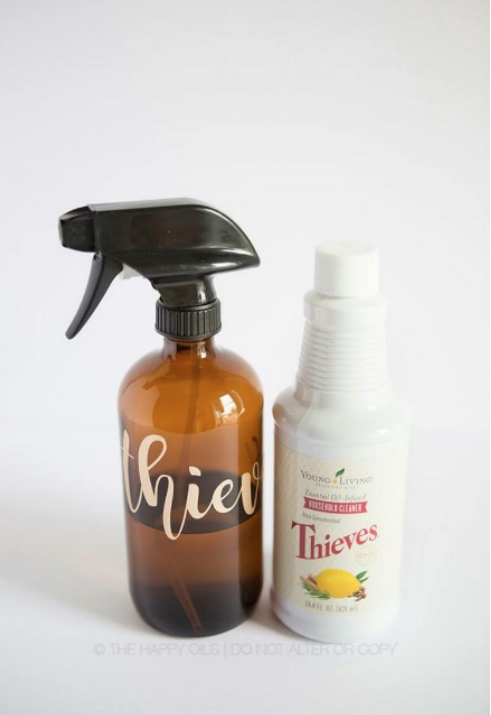 I love my oily group as they always have such amazing tips to share.  I learned about this Tub, Tile, and Grout Spray made from the Thieves Household cleaner and I knew I wanted to try it out on my stubborn sink.  This is great because it just adds that little extra punch for those stubborn areas.  Years ago when I switched all my products to non-toxic I was on the hunt for something to replace the Comet that I was using on my tubs and sink.  The Comet definitely did the job but it was so full of chemicals and so bad for me and my family.  I then found the Better Life Kitchen and Bath scrubber, and while that was way better for me, I felt like it took me about 15-20 minutes to scrub out my sink.  Ugg!  I just kind of dealt with it though because I was not sure what else to use that was "safe".   I have a white sink and it gets so scuffed up from cleaning all my cast iron pans and after a few days it even starts to look yellow.  This is my sink after literally just cleaning it the day before.  So often it gets even more yellowed than this.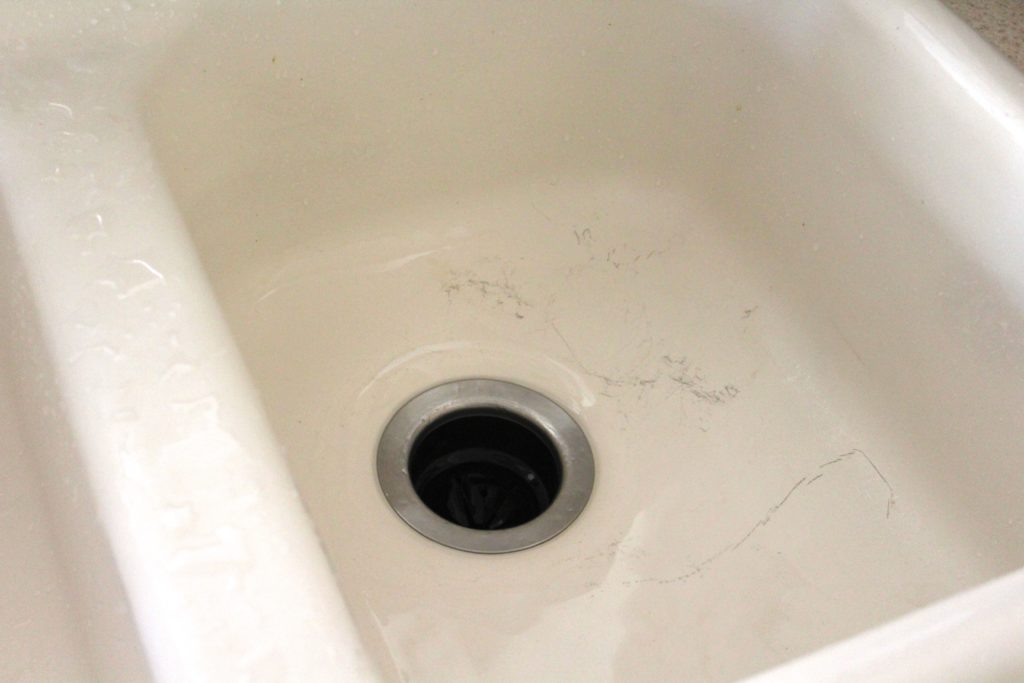 So I made up the new tub, tile, and grout spray and I was in love!!  The sink took only a few minutes to clean and all those black marks and yellow stains rubbed right out!  I sprayed it on and let it sit a few minutes and then used one of those sponges that are yellow on one side, and green scrubby on the other side, and it worked so well!  I have been struggling to clean this sink for about the last 7 years and now that I found my dream cleaner for it I am moving in a few weeks!  Go figure!  Hopefully this can still help someone else who struggles to keep their white sink "clean and white" the non-toxic way.  Here is my after pic!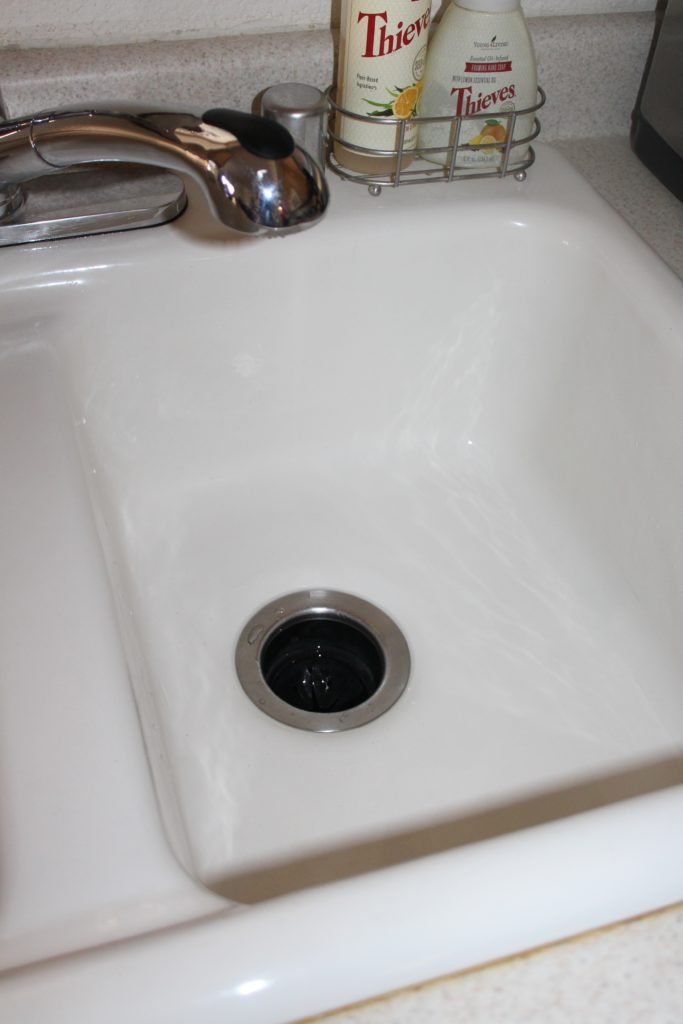 To make up this cleaner I just put a funnel right in the top of my 16oz glass spray bottle.  First add your Thieves Household Cleaner and then your Lemongrass.  I recommend Lemongrass over Lemon Essential Oil because lemongrass still has all the cleaning power of Lemon EO but gentler on your caulking around your sink and tubs.  Then add your liquid Castille soap, Hydrogen Peroxide, and top with distilled water.  Shake and spray!
Besides my sink, I also love this for cleaning my tubs, showers, and toilets.  My toilet cleaner was probably one of the last toxic products I was using that needed to be switched out.  By by blue toxic toilet cleaner!  Just spray on and let sit for about 5-10 minutes and scrub it out with a toilet brush.  Same for showers, just spray it on, let it sit a few minutes and then scrub off with a scrubby sponge.
If you like the idea of a non-toxic cleaner for your whole house you can read more about the Thieves cleaner right here!  Remember this bottle lasts you about 6 months so you really get more bang for your buck!  You can purchase this cleaner retail or wholesale and I totally recommend the wholesale account.  If you sign up for a wholesale membership account it is just a one time fee, no monthly minimums you have to keep, and then you get the 24% discount on all future Young Living products for life!  With the wholesale membership account you can sign up for the basic account $45, or the premium starter kit $160.  Either way I would love for you to sign up with me so you can get access to all of my teams amazing resources!
If you are not familiar with Thieves Essential Oil here is a fun little history about where it came from.  Young living has an entire line of Thieves products.
This is the most amazing blend of highly antiviral, antiseptic, antibacterial, and anti-infectious essential oils. It was created from research based on legends about a group of 15th-century thieves who rubbed botanicals on themselves to avoid contracting the plague while they robbed the bodies of the dead and dying. -Pocket Reference Guide

DIY.....Tub, Tile, and Grout Spray
This is a great non-toxic way for getting stains out of your white kitchen sink and also for cleaning your tubs, showers, and toilets!
Ingredients
16 ounce glass amber spray bottle
2 caps Thieves Household cleaner
14-16 drops Lemongrass Essential Oil
6 Tablespoons Liquid Castille Soap
12 ounces Hydrogen Peroxide
Distilled Water
Instructions
Put a funnel in the top of your 16 ounce glass spray bottle.
Add in your Thieves Household cleaner and your lemongrass essential oil.
Pour in your liquid Castille soap and Hydrogen Peroxide.
Top with distilled water.
Shake and spray!