Sounds like a strange thing to love, right?  Well it is true, I love Apple Cider Vinegar!  Not so much the taste, even though I have learned to tolerate it and even kind of like it a little, but I love all the health benefits that goes with it!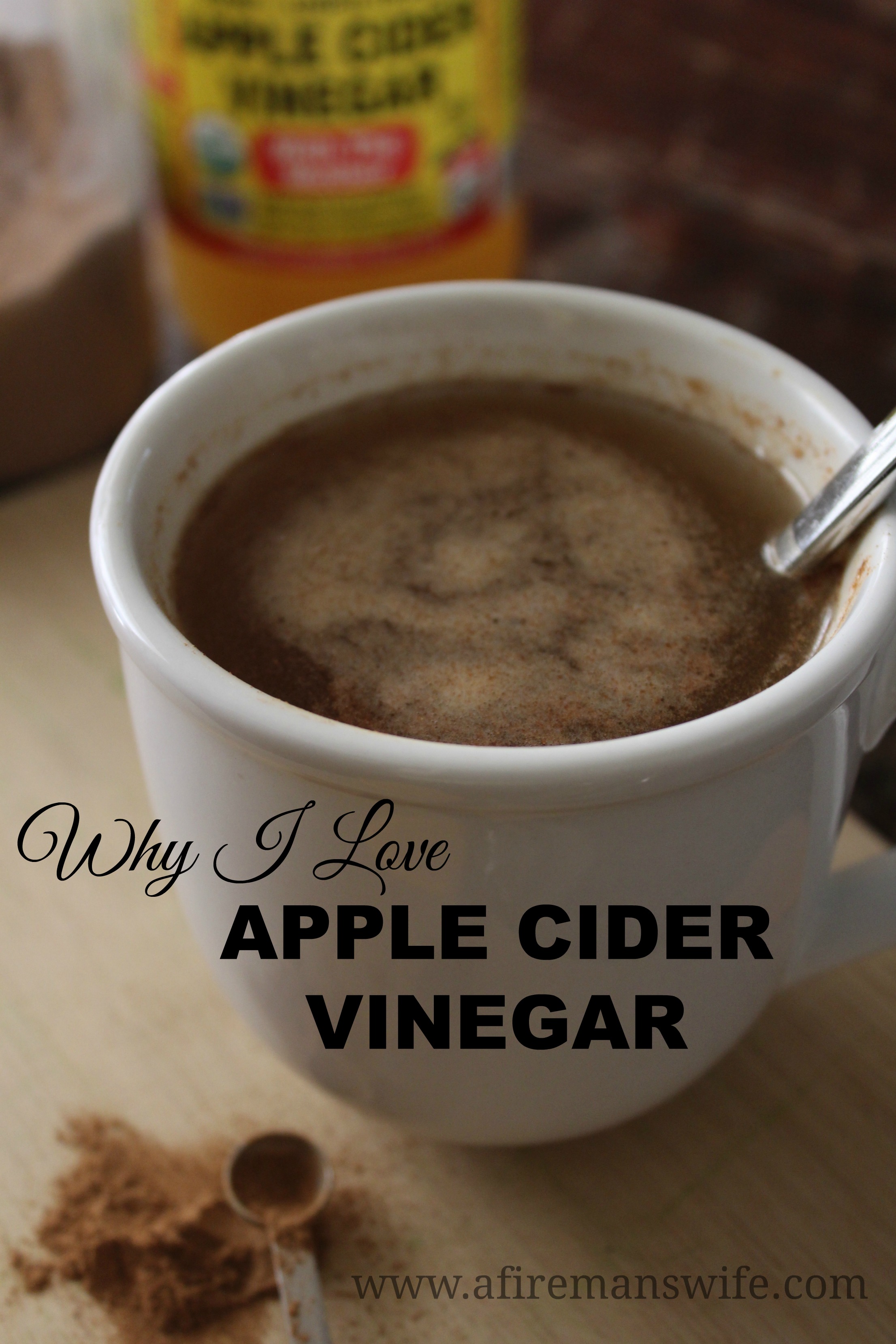 Now I am no doctor, and most of what I have discovered about Apple Cider Vinegar is from personal experience of drinking/using it the last 5 years, but I love when I do look it up and I find that doctors have done research on this wonder product and they find that it actually does have proven health benefits!
New medical research also suggests that apple cider vinegar use can help cure acid reflux, lower blood pressure, improve diabetes, and support weight loss.
The benefits of apple cider vinegar come from it's powerful healing compounds which include acetic acid, potassium, magnesium, probiotics, and enzymes.
Acetic acid has the ability to kill dangerous "bad" bacteria, and at the same time to foster the growth of beneficial "good" bacteria. Because acetic acid kills unwanted bacteria when it comes into contact with it, it essentially acts as a natural antibiotic. This means apple cider vinegar naturally provides numerous benefits related to skin, digestion, and immunity health without any side effects.
Additionally, apple cider vinegar is a good source of polyphenols. Research supports the role of polyphenols in the prevention of cardiovascular diseases, cancers, neurodegenerative diseases like Alzheimer's, osteoporosis, and diabetes
Make sure when buying apple cider vinegar you buy it raw and with the "mother" which means it still contains the beneficial compounds including probiotics.
Apple cider vinegar contains acetic acid which is acidic in nature but has a more alkaline effect on the rest of your body.  Balancing your bodies pH can reduce your risk of chronic illnesses like cancer and can dramatically increase your energy. From www.draxe.com.  Here and here are a few other good articles on the health benefits of ACV.  
So I first discovered the idea of using Apple Cider Vinegar or ACV about 5 or 6 years ago when I was having lots of sinus and ear pain.  I turned to good ol' Google to see if anyone had any tips for how to naturally relieve sinus pain.  I stumbled across so many people talking about this ACV and how for many of them it really helped.  I tried it out and was amazed at how well it helped me too. When taking this you can't just take any ACV, it needs to be raw organic with the "mother" in it so you can take advantage of all the health benefits.  I use the Bragg brand (affiliate link) and can find it at Whole Foods, Sprouts, or even my local grocery store carries it.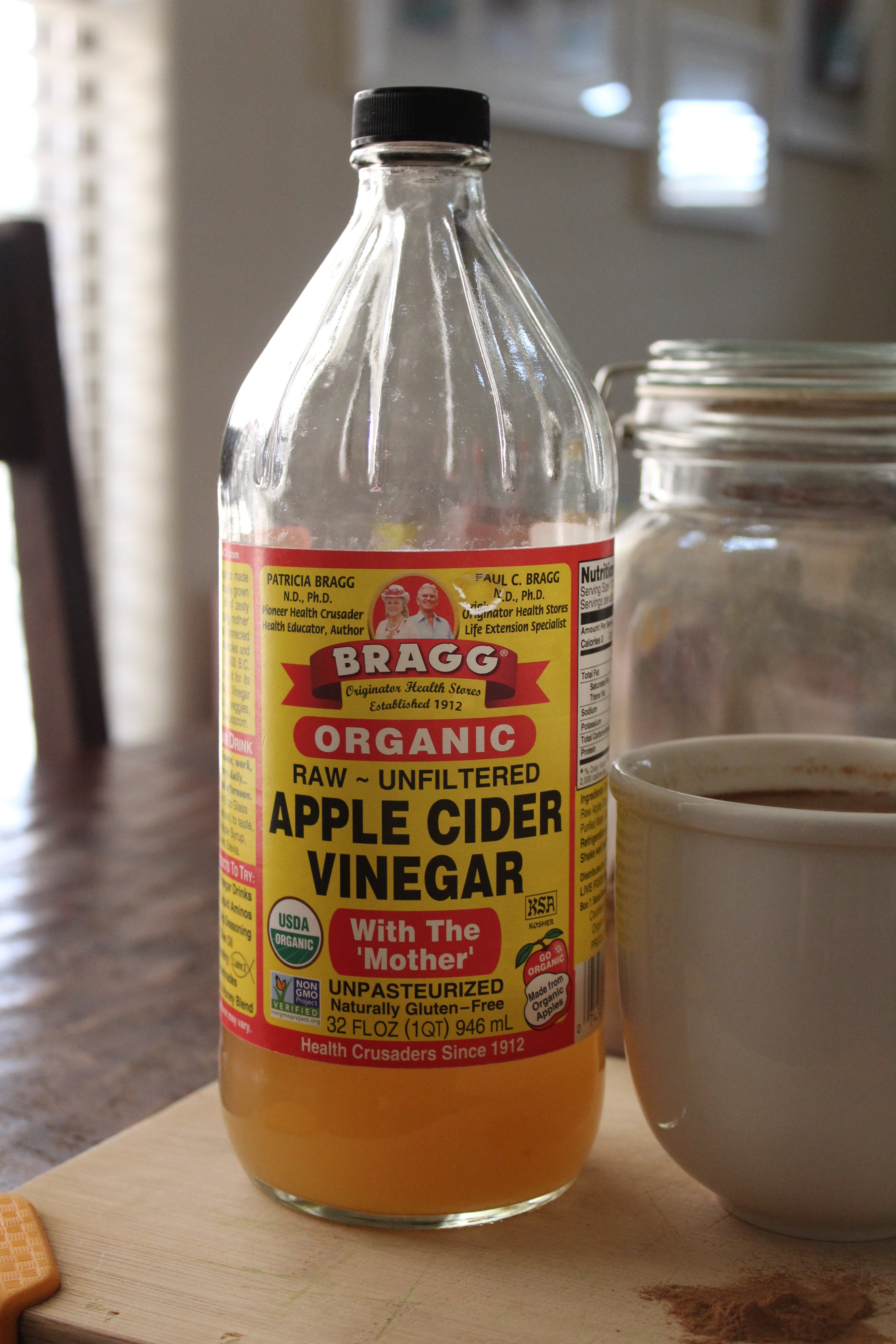 How I use Apple Cider Vinegar
On a daily basis, usually in the evening, I drink ACV as an overall wellness drink, even if I feel like nothing is wrong, just because of all the health benefits as stated above that come from it.  I heat up a mug of hot water in the microwave and then I add 2 teaspoons of Apple Cider Vinegar.  If you have never taken ACV before you may want to start off with 1 teaspoon for the first few times while you are ridding your body of toxins.  You can drink the ACV with just water but to make it taste better I add a teaspoon of raw organic honey and also a heaping 1/8 teaspoon of cinnamon.  It really actually tastes kind of good with the honey and cinnamon.  For the first couple years of taking this I just used the regular cinnamon in my pantry for cooking.  Along the way I learned that not all cinnamon is as good for health benefits.  After researching this a little I learned that Ceylon cinnamon is better when using it for health benefits.  I could not find it in the stores but I found it here (affiliate link) on Amazon.  ***NOTE- Never take Apple Cider Vinegar by itself as it can actually burn your esophagus.  Always take it with plenty of water.
Another way I use ACV is as a toner.  No more trying every product in the store, and most of them are full of bad chemicals, to try and find something to make my face not break out.  This is the best thing I have ever found for my skin and the best part about it is that it is cheap and all natural!  My face, and sometimes upper back, was always prone to breaking out and this has been a miracle worker for me!  And if it ever does happen to break out it gets rid of it really fast!  This is totally safe to use when pregnant and for my last pregnancy my skin hardly ever broke out.  Now when I wash my face morning and night I use a natural organic face wash, and after that I use my ACV toner.  When the toner dries I rub on face lotion as vinegar can be drying.  To make my toner I use a 4 oz glass bottle.  I think I grabbed it from Whole Foods.  I fill up the bottle just under the half way point with ACV and then I fill up the rest of the bottle with filtered water.  When first starting off maybe just fill up 1/4 – 1/3 of the bottle with ACV  and then the rest filtered water to make sure it is not too drying.  Worried about the smell??  Don't, it goes away when it dries and it is worth it if it works!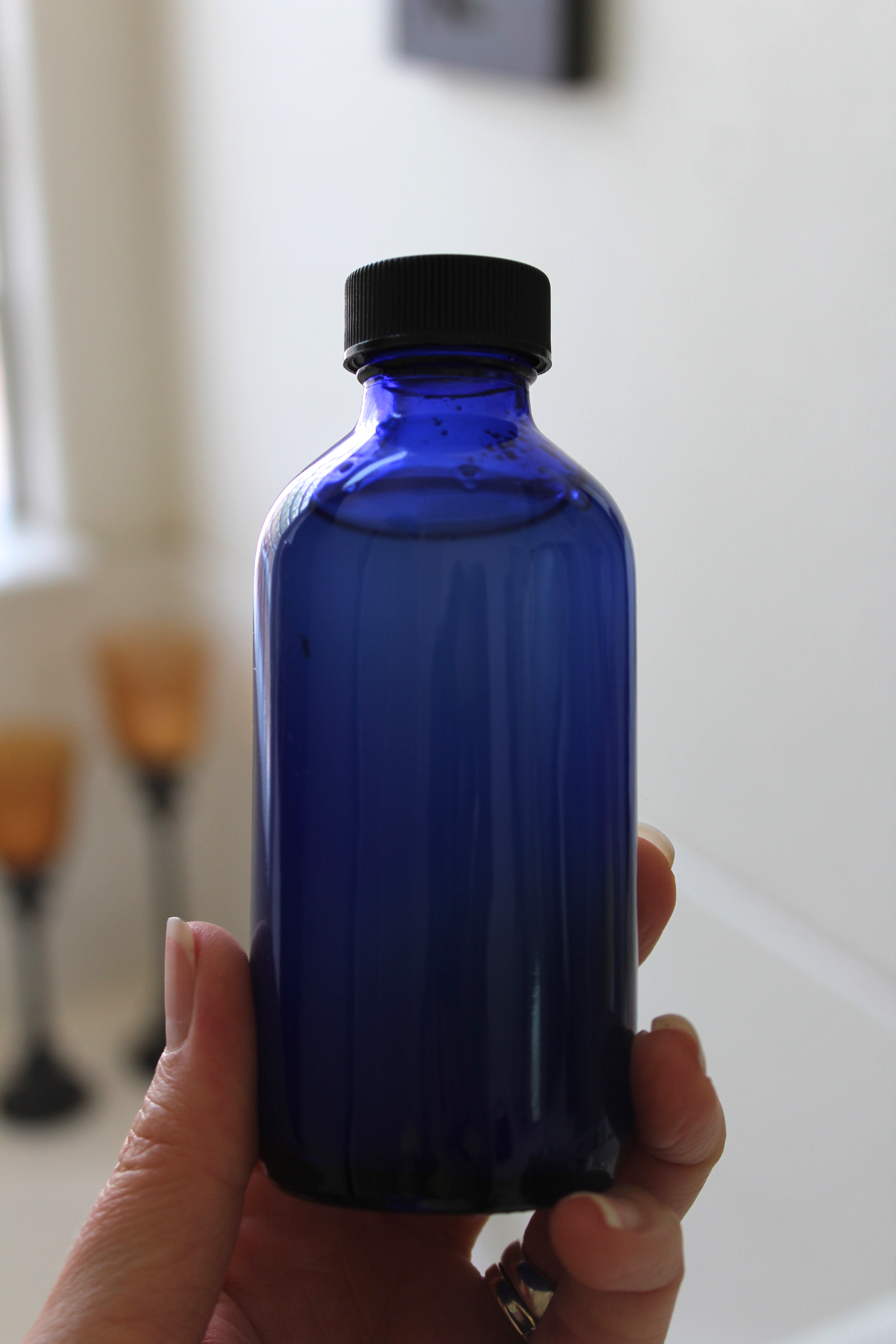 What I use Apple Cider Vinegar For
So along the way Apple Cider Vinegar has now become my go-to product for so many things. Here are some of the stuff I have used it for:
Sinus pressure- make the drink 2-3 times a day until better.  The AVC will actually thin out the mucus membranes.  It will make your nose start running but that is draining everything out.  You can also just breath in the fumes of the vinegar bottle to help drain your nose.
Feel like you are getting a cold/sore throat or have a cold make the drink 2-3 times a day until better.  Often if I take it fast enough when I feel like I am getting sick I will stop it from coming on all together or I will get it really mild.  Or if someone else in the house it sick I will take the drink 2-3 times that day to prevent it.
Feel like you are going to throw up?  Sounds strange like it would make it worse but 100% of the time when I have felt like I was going to throw up and I have made the drink in time, my stomach felt better in an hour.  I maybe wasn't totally well yet but it stopped the stomach ache.  It will also relieve nausea.  This has also worked for my husband.  He actually hates the drink but will take it when he is sick because he KNOWS it works!  He now leaves a bottle at the fire station with him or takes it on wild land fires as a just in case!
Feel tired or run down in the afternoon- of course the drink will help, or sometimes I will just pour a little ACV in my ice water and sip it throughout the afternoon.  You have to be able to stand the taste for this.  It always gives me a little pick me up and a little extra energy to make it through the afternoon/ dinner craziness.
Makes a good natural deodorant.  Rub on your vinegar toner under your arm pits.  I actually use this every morning under my natural homemade deodorant.  Works great to also take away any smell in case you were not able to shower that morning!
Takes away mastitis when nursing.  I got to try this out several times when nursing my 3rd baby.  Rub the toner right on the infected spot several times a day and drink the drink 2-3 times a day until better.  ACV can act as a natural antibiotic.  I also used moist heat and worked on massaging it out all day.  Usually I had it gone that day.
ACV is great for your hair and scalp and can act as a natural conditioner.  My scalp got all irritated during my 4th pregnancy and this helped take away the irritation.   I put some vinegar in a squirt bottle, about 1/4 cup, and then filled the rest of the bottle up with water and put it all over my hair and scalp in the shower.  I let it sit for about 5 -10 min and then rinsed it out.  When I was researching this some people said ACV is great for thickening thinning hair.
Toe Nail Fungus-  My toe nails were gross for years from my days of dancing and point shoes in high school and I could never get rid of it….until ACV. I just rubbed on the toner on my toes a few times a day and it was gone.  Also if your toe nails are gross after having nail polish on for too long it will make your nails all better.
Any kind of skin issues such as acne, skin irritations, eczema, and warts.  Rub on the toner for all of the above.  I use the toner on my face and back morning and night just to keep my skin clear.  For eczema I have used it on my daughter.  It took a few weeks of putting it on twice a day but it did clear it up.  The problem with eczema is that if it is something in your diet or that you are coming in contact with it is going to be difficult to clear it up until you figure out what is causing it.
Sun burns.  It will take away a sun burn really fast.  Just rub on your vinegar toner.  I then usually put aloe on top of that once it dries.
Helps with ear aches/infections.  I have put my toner on a cotton ball and then I will turn my head to the side and squeeze the toner in my ear.  Just let it sit in your ear for a minute or two before putting your head up.  This has also worked on our dog a couple of times when she had really infected ears.  Just squirt the toner in your dog's ear and massage it around.  Do this for a few days until it clears up.  Will save you a nice vet bill!
Now I am not sure about this last one but with my second pregnancy they found a dermoid cyst on one of my ovaries during one of the ultrasounds.  It was a bout 3cm.  This was way before my ACV days.  I then continued to have to have it monitored every 6 months for about 2-3 years to make sure it was not growing.  I was told that I would probably have to get it removed at some point.  It was not growing but it was not going away.  They finally let me start going a year between ultrasounds.  Fast forward to discovering ACV and my 3rd pregnancy about 3 years later.  They could hardly find it on the ultra sound when I was pregnant with baby #3, I had to tell the tech to look for it.  It was maybe about 1cm at that point?  About 6 months after baby #3 the doctor wanted it checked 1 more time, it could hardly be seen.  With ultra sounds with baby #4 it was totally gone!
For this one you don't even need ACV.  Just any ol' white vinegar will work.  It does wonders for your dishwasher.  We have hard water where we live and for our first several years of marriage we suffered from all of our dishes and glasses getting that white film all over it, even with using those horrible rinse agents full of chemicals.  Yuck!  The dishwasher baskets would also get full of that white film.  I discovered that vinegar tossed right in the dishwasher before you start it every time will clean that right up.  I literally take my large bottle of vinegar and just toss some right in every night and after about 2 washes all my glasses were clear and looked sparkling clean!  Of coarse white vinegar is also good for any household cleaning, and it worked great when I would clean my Baby Bullet steamer.
Natural Bug spray and weed killer.  Just put some white vinegar in a spray bottle and spray your weeds and around your doors to help with bugs.
So basically when in doubt put some vinegar toner on it, drink it, or spray it and it will probably help!  I am sure there are so many other uses for this wonder product that I haven't even tried.  I would love to know if you have found any other great uses for it!
I would love if you would join my Friday link-up party!

Apple Cider Vinegar Wellness Drink and Toner
Recipe type:
Wellness drink and Toner
Ingredients
Wellness Drink
Mug of hot water
2 teaspoons Bragg Apple Cider Vinegar
1-2 teaspoons raw organic honey
Heaping ⅛ teaspoon Ceylon Cinnamon
Toner
Bragg Apple Cider Vinegar
Filtered water
Instructions
Wellness Drink
Mix ACV, honey, and cinnamon in your mug of hot water and enjoy!
Toner
Fill your toner bottle a little less than half way with AVC and then fill the rest of the way up with filtered water.