Sometimes I'm asked questions about being a fireman's wife.  Things like, "what's his schedule like, or how do you do it…especially with 4 kids….and you homeschool too??"  My Fireman and I have been married for 14 years, and on January 1st he will have been with the fire department for 10 years.  So obviously we didn't start out married life this way.  In college my Fireman liked the idea of someday being on the fire department, but was advised not to, not by me, but he complied and chose the other suggested path at that time.  I think the concern by others was the unconventional schedule, the pay, the risk, all the usual concerns about being a firefighter.  So after graduation my husband found another job.  He gave it about a year and a half before he decided this type of job was NOT for him.  He still had that desire to become a fire fighter.  At this point we had been married a little over a year and I was used to how things were.  I liked him being home every night, liked him being off for holidays.  That is what I knew….did I want it to change??  We had some serious praying to do!  Well, all things kept leading towards him going after his dream job. So at first, before he was even hired, I did have some reservations about how I would like the schedule or handle him being gone several nights.  For me it came down to I would rather him be happy and love his job then have him be miserable going to work everyday.  So God gave me a peace and acceptance about it, that I would handle whatever is to come, and find contentment in the schedule.  So there has been some ups and downs along the way, areas that God has had me grow, but overall the BEST decision he could have made!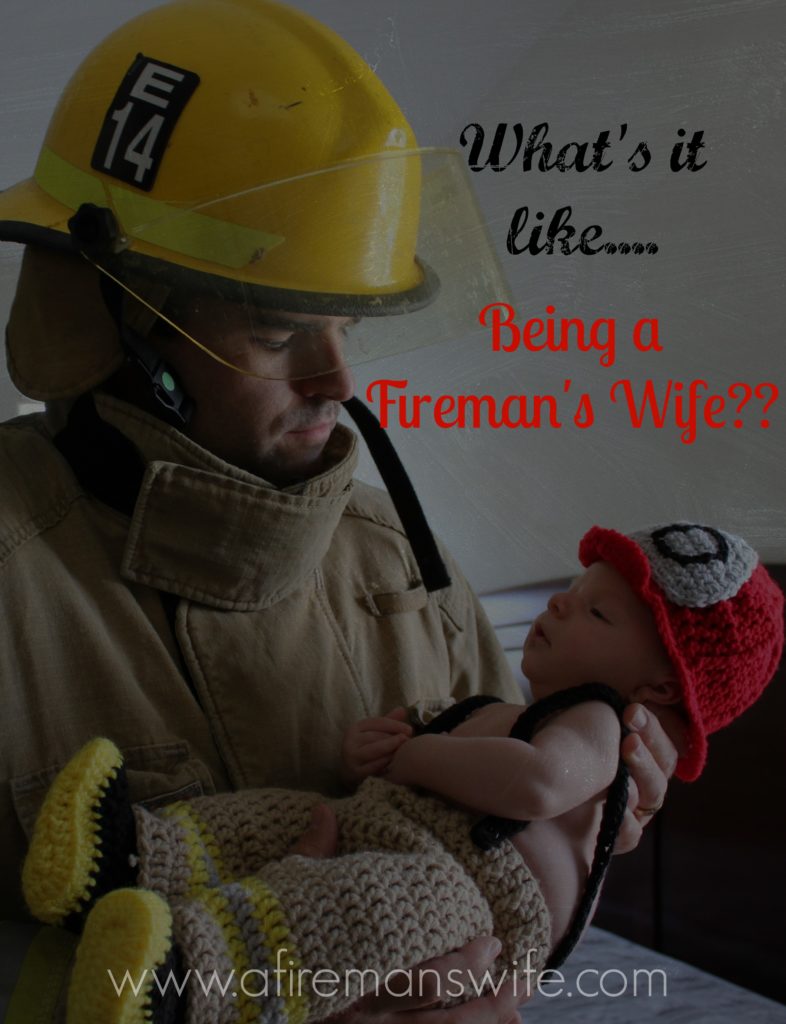 So… what's his schedule like anyway?!?!  I know every department can be a little different but my husband's schedule is 24 hours on and 48 hours off.  They run on an A, B, or C shift schedule that just constantly rotates.  So some years I feel like it falls that he works almost every holiday and almost all our birthdays, and other years it falls that he has most of them off.  I have just learned to accept that's part of the job.  That was part of the deal I knew going in.  Now with that said my husband is fortunate and works for a huge department.  So getting time off is usually pretty easy for him.  He can either just take a vacation day or get someone to work for him when he really needs to have a day off.   He is even able to get some time off on holidays usually if he puts in early enough.  If he does end up working a holiday or birthday we will just plan on doing the celebration the next day.  We have had Thanksgiving on Friday before. Or we can always go visit him at the station.  Also, when my husband is home and off shift he is home.  Meaning he does not have a pager where he can get called in at random.  If he chooses to put in for overtime he will get a call first thing in the morning to know if he is going in for a partial, am or pm, or a 24 hour.  His regular shifts go from 8am to 8am the next morning.  He will leave the house at about 6:15 in the morning to get to the station early to check off the truck and relieve the other guy he is taking over for.  So he is usually gone before we get up as we are not morning people around here!
Does he have to work a side job or do overtime??  Yes and yes!  I guess you could say this to be a sort of "con" about the job.  While a "pro" of the job is that it is very stable with good insurance and benefits, we don't  have the fear of him loosing his job or him getting laid off, but the con would be that he has had to either carry a side job or make sure he does overtime a few times a month.  Some guys don't have to if their wife works or if it is just them, but for our "large-esk", is that even a word, family of 6 where I stay home we need it!  In the past he has done a few side jobs, and will still occasionally work for a couple of them, but now we mostly feel like it is more beneficial for us as a family to just have him do more overtime for extra money as it will actually pay better.  Being in a big department he is lucky to usually get it when needed especially if he is not too picky about the days.  Like willing to go in on a weekend day or night.  Not having his own company, as many fire fighters do for their side jobs, we found a side job to just take him away so much from the family on his off days.  Not that overtime won't take him away but financially it is more worth it when we really need the money.  He will often like to go in for a PM overtime rescue shift the night before his normal shift because we are all just going to bed anyway and that way he is not missing out on family activities.  Win win because he is getting paid, but an extra job is not taking him away all day.  The last 3 years he has also started doing wildland fires in the summer.  He goes as a medic for the people fighting the fires.  This is tough as it is a little more unpredictable with the schedule.  During wildland season, roughly end of May through September, that is where he can get the call to be at the shed in an hour!  This is with a different company then his normal fire job, but it has been very worth it for the sacrifice in the summer.  I say sacrifice as he can be gone 3 days all the way to 3 weeks at a time!  We never know how long and just have to take it day by day.  Of course this is by choice, he does not have to do this, but for us we decided right now it was financially worth it for him to do this in the summer time.  He is always able to turn the call down when it comes in, or say when he is done with wildland fires for the season. We are fortunate he works for a fire department where he can get the time off from them needed to go on these wildland fires.
So, what is all this like for me??  My role as a fireman's wife has evolved throughout the years.  In 10 years I have gone from having  one child when my husband was first hired and me still working full time, to me staying home, to having another child, no kids in school or one just in preschool, to two kids in school, to a third child, to homeschooling, and now having a fourth child.  Whew!  So what do I do when my husband is gone for 24 hours, 48 hours, or 26 days in the summer?  Schedule, and just keep doing the same thing I did yesterday.  Ha!  Sounds pretty exciting right??  With having little ones and homeschooling, scheduling has been my life saver!  First I will take a step back though.  Like I said in the way beginning of my husband being on the fire department I still worked.  I thought it would be really hard with him being gone for the entire 24 hours, and him having to miss some holidays and gone on some weekends, but I think I adjusted pretty quickly.  I think when we decided that being a fire fighter was the career that my husband wanted to go for, God gave me a peace about him being gone and handling the schedule. By the time I became a stay at home mom I had baby #2 on the way so life was busy and I had no time to be bored with him gone.  When the girls were little I actually started to enjoy the day when he was gone, not that I didn't miss him, but I was able to use that as a day to catch up on stuff I wanted to do whether it was chores, yes I got a lot of cleaning done, or blogging or a project, and I had the whole evening after the girls were in bed to get it done!  So I was able to find the positive in it that way.  When I had baby #3 life just got so busy that my day was dictated for me and their hasn't been a dull moment since!  As I mentioned above, when I began homeschooling 2 years ago, I started scheduling my day and that has been a huge lifesaver to make sure all the school, chores, meals, baby feedings when baby #4 came, was accomplished.  Otherwise trying to do it all myself, when my husband was gone all day, or multiple days in a row, would have been too overwhelming.  When he comes home the next morning I always ask him how his night went.  He will usually fill me in on everything or if he had any calls he wants to talk about.  I am very lucky that even if he had a bad night he just has more coffee!  I don't think he has ever said in 10 years, unless he comes home sick, that he just needs to go lay down right now.  I don't ask him to stay up, I am usually just doing school with the kids anyway, but he also often has stuff he wants to accomplish in the morning too, and the kids are excited to see him.  We pretty much have a standard nap/quiet time in our house every day from 2pm-4pm.  My girls have reading/quiet time, my 4 year old has quiet time, or can nap if he will actually fall asleep, and my 1 year old naps.  During that time I have chores and computer time, rest or blog time etc. and my husband will nap then.
So, did or do I ever struggle with any of this??  Yes!  As I said above my husband works 24 hours on and 48 hours off, and that is if he is not doing any overtime or side jobs….and then it is more.  Yes I have learned to adjust to the schedule and go with the flow with him being gone a lot, but it doesn't mean that some days are just hard!  And if they are hard I don't have my husband coming home in the evening to help.  I just have to keep pushing on and get through the day.  I have learned throughout the years that if it is going to happen….it will happen on shift day.  That's just the way it is!  I have also struggled in the past with the fact that just to make it and pay the bills he has to work SO much.  Things have gotten a little easier as the years have gone by, but some times in the beginning were tough and I would find myself doing the comparing game with other people.  God has really grown me in this area of learning to be content with where we are at.  I also would then struggle with him being gone all the time and feeling like I hardly had a husband.  I feel it was an answer to prayer with God bringing him the wildland fires in the summer.  It kind of sounds crazy, but with wildland he is gone for a concentrated time for a small part of the year, and now we feel like he can be home for more of the rest of the year with maybe just overtime 1-2 times a month versus all the time like before.  So for now that seems to be working and we are always praying God can open up a great side job that he can do at home.  He recently has been trying something out but it is still too soon to tell if it will take off.
What are my expectations for the day?  On shift day usually not too high.  So for a normal school day if I follow my schedule usually things go pretty smooth.  Like I said some days are harder than others and I just learn to push through.  During wildland season I keep a very low expectation and realize I am probably not going to get much accomplished other than just surviving while he is gone.  I have learned that I just can't do everything that comes up on some days,  especially when I have a baby at the time.  Sometimes, depending on what it is, it would just be too hard to take or bring 4 kids to the activity without help.  As the kids get older that will get easier but right now with a 4 and 1 year old boy, some things I just have to say no to.  I have learned to be okay with that.
So what are the positives?  I thought it would be good to end on a positive.  He is a fireman!  I think that is a pretty cool job.  He is a hero and saves lives.  He gets to drive a fire truck and we can visit him and ride in the truck whenever we want.  The uniforms look pretty good too! 😉  He LOVES his job!  Not every husband loves their job and I love that he loves going to work.  Makes it so nice that he is not miserable with what he does.  The shift schedule may be a little abnormal compared to what most people do, but this means he has days off during the week when most husbands work all day Monday through Friday.  This allows him to be free to join us on field trips or activities when they happen during the weekdays and he is home.  That also makes it nice when scheduling appointments.  I always schedule them when he is home so I don't have to bring all the kids or find someone to watch them.  He is so wonderful and does the grocery shopping for us on weekday mornings so I can run homeschool and not have to spend all day Saturday at the grocery store.  Every night I look forward to his call.  I think in almost 10 years we have only not talked 2 shift nights, and it was just from missing each others calls and then him being on a call when I would call him back.  I love how every shift morning he leaves a note to me and the kids.  If he takes one shift day off he will have 5 days off to be at home…or be free to go on a quick vacation.  If we need extra money for something he can just do extra overtime and it is like giving himself a raise.  Not many people can do that.  We often don't even know what day of the week it is around here.  Instead of asking each other is it Monday, or Tuesday etc. we will ask, is it B shift or C shift?  If he is working we know it is A shift.  Or if we have an activity to go to he will first ask what shift is it on?  I'm sure other fire wives can totally relate!
I hope that gives you all a little more insight on what's it like to be a fireman's wife!